A Look at Lupin the Third, Anime's Greatest Thief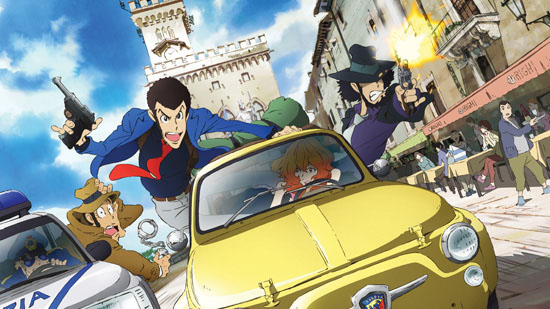 This current decade has been quite the phenomenal one for a character who made his anime debut roughly 45 years ago courtesy of an author whose pen name is "Monkey Punch." In the past six years alone Lupin the Third, anime's greatest thief, has found himself the subject of multiple theatrical anime films, feature-length TV specials, television series, and even a live-action film. Best of all, more and more of it is finally becoming available in the United States due to the ongoing efforts of Discotek Media and FUNimation, who have wisely made much of it available on online video streaming services such as Crunchyroll and Hulu. As of this writing, every episode of every Lupin the Third television series is available for viewing free of charge, from the original 1970s show to the version just concluded in 2016. Even putting aside the rest, that's around 265 episodes!
Clearly, no one is expected to actually watch every single episode, movie, or direct-to-video release. Indeed, depending on the writers and artists, Lupin can be serious, surreal, or completely madcap. Much of Lupin's globetrotting adventures in larceny are family-friendly entertainment, yet some are rife with violence and adult situations. Thus, the matter of picking where to begin is not quite as simple as it was even in 2012 when I wrote, "So, Which Lupin the Third Anime Should You Watch Next?" for the Otaku USA website. I encourage you to read that along with my reviews of The Castle of Cagliostro and The Woman Called Fujiko Mine also on the same site, so that I needn't repeat all that here.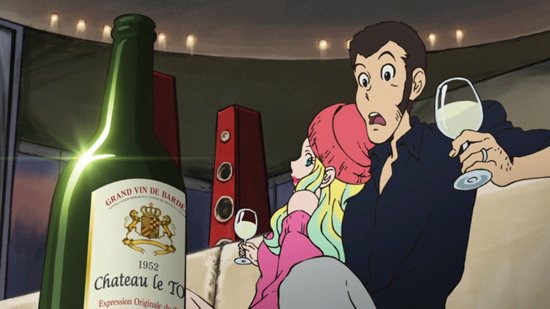 With so much Lupin the Third easily accessible in 2016, as a newcomer do you start at Episode 1 of the original series? You could do that, but know that as a Japanese TV production from the 1970s it won't meet any modern standards of animation, audio, or political correctness. It'll feel "old" because, well, it is! If that's a potential deal-breaker for you and you're relatively new to Lupin, then my recommendation is simple: just watch the newest series Lupin the Third: The Italian Adventure, commonly referred to online as "Lupin the Third Part 4" or, more simply, "blue jacket Lupin" since that's the color of his trademark outfit this time around.
Part 4 is the grand unification of Lupin styles: a bit dangerous like the originals, a bit silly like the 1980s "pink jacket" Lupin, a bit bizarre like The Woman Called Fujiko Mine, a bit "gentleman thief with a heart of gold" like Hayao Miyazaki's Cagliostro interpretation, and so on. That's because the creative staff have plenty of experience with the series across its various incarnations. Animation studio Telecom Animation Film Co, music composer Yuji Ohno, director Yuichiro Yano, and Chief Director Kazuhide Tomonaga have all worked on various Lupin anime for decades, some since the very beginning. In keeping with modern anime fan preferences, Part 4 tells a mostly continuous story across its 24 episodes rather than being all stand-alone tales. Its narrative and visual aesthetic are modernized while still being suitably "classic" such that you get the feeling that this Lupin takes some cues from Cowboy Bebop, a now decades old series that itself bore some stylistic resemblance to Lupin.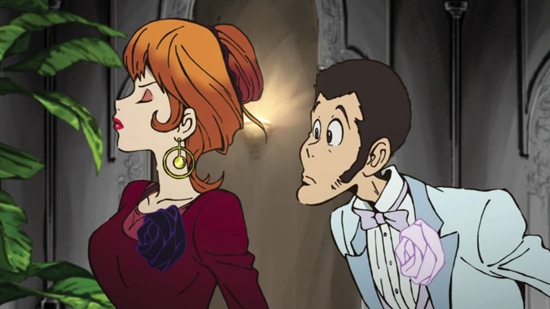 But perhaps you're the type of otaku who commits to watching things in their entirety once you've started, episode counts beyond 13 are a bit too long for an initial commitment, and you don't particularly have much patience for older anime artwork. Worry not, for you still have free streaming options: 2012's Lupin the Third: The Woman Called Fujiko Mine directed by Sayo Yamamoto (Michiko & Hatchin) runs a now standard 13 episodes and is meant to serve as a tale of how the cast first met one another. That said, it's drastically different from most other Lupin anime due to its combination of a darker tone reminiscent of the original 1960s manga with significant nudity, violence, sexual content, and imagery that can get downright psychedelic. It remains divisive among the fanbase: you're probably going to either love it or hate it. If you love it, then it's possible there may not be other Lupin anime with the aspects of the series you enjoy.
Lupin the Third: Jigen's Gravestone is technically a theatrical film sequel to the events of Fujiko Mine, but its European setting, Lupin's blue jacket, and the animation quality make it almost like a warmup to The Italian Adventure. At 50 minutes with separate ending and opening credits midway through, it's even structurally like two television episodes. Directed by Takeshi Koike with music by James Shigeta and Katsuhito Ishii as "Creative Advisor," Jigen's Gravestone is basically old-school hardboiled Lupin as done by the makers of Redline; so old-school, in fact, that Goemon isn't even in it and Inspector Zenigata isn't a significant presence. Lupin and Jigen are pitted against a deadly sharpshooter who's got them completely outclassed. Of course, they'll prevail through the power of next-level BS, but the joy is in watching it.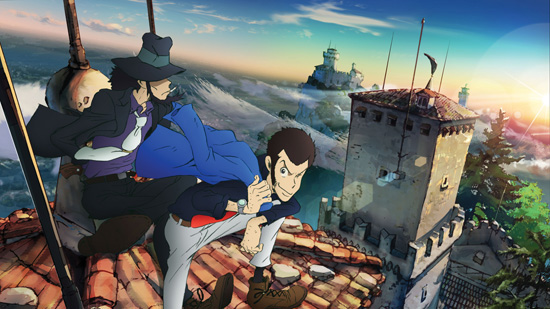 The insane levels of detail put into firearms and automobiles that exemplify Lupin to many, which weren't as prominent in Fujiko Mine, are back in full force thanks to Telecom handling the animation duties; the car chase sequence from the first part is a showcase of killer animation and direction. I, for one, also appreciate the blood and gore resulting from people getting shot! Still, while Fujiko Mine is often praised through a modern feminist lens, Fujiko in Jigen's Gravestone is handled as she was back in the manga of the 1960s. In the event you don't know what Monkey Punch is into, that means the majority of her screen time is spent in peril either completely naked or in fetish gear due to a hulking sex robot equipped with a drill placed roughly around where Mazinger Z would fire missiles from. Well, he did name her Fujiko because her breasts resemble Mount Fuji!
For the record: I didn't forget about 2013's Lupin the Third vs Detective Conan movie. I just don't think it's very good, since with a name like that I was hoping they'd be more against one another; like maybe Lupin would steal things and Conan would try to catch him? Regardless, there's always been a version of Lupin for all tastes, and in the 2010s new iterations of all of those versions are being made. This is all just the tip of the iceberg; as proof, search for "Lupin" on Hulu, Crunchyroll, and FUNimation or just look through the Discotek DVD catalog!