Even more Lupin III: Jigen's Gravestone details
Even more deets out this week about the new Lupin the Third film, Jigen's Gravestone, helmed by the one and only Takeshi Koike.
First and foremost, the first teaser for the film has been released, with some tantalizing glimpses at the film to come. Check it out!
Secondly, the official website for the film released a short interview with current Lupin voice actor Kanichi Kurita and Kiyoshi Kobayashi, the guy who's been playing Jigen since the 1960s, who touched on a few of the big differences between Koike's Lupin movie and the TV specials that have come before, and we've hit the dictionary and produced some English excerpts for y'all:
"The biggest difference is probably the dark and dirty feel this one's got," Kurita said. "It takes place pretty soon after Jigen and Lupin first met, and they don't really trust each other or even think of each other as allies. But over the course of the movie we start to see the beginnings of their iconic friendship take form."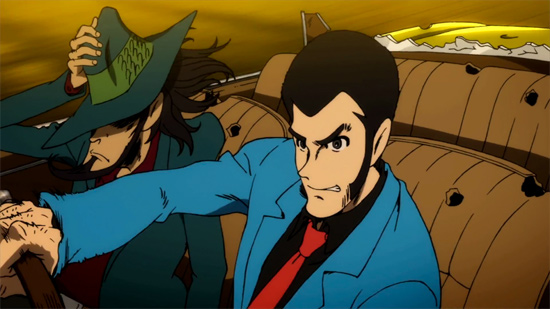 "There used to be a lot of stories like that a long time ago, about the sort of casual relationships between these kinds of characters," commented Kobayashi. "Those kinds of stories are always really interesting to me, and I'm glad to see another one getting made."
Director Koike was also asked what his thoughts were when he accepted the opportunity to direct Jigen's Gravestone.
"A Woman Called Fujiko Mine takes place at a time when Lupin's co-conspirators haven't quite met yet. I thought that was incredibly fascinating. I decided I wanted to make something else using that setting, but this time with Lupin as the protagonist, and it was that incredible sense of fascination that led me to undertake the project."
Finally, we've got a bundle of new screenshots from the film and a poster. Looks like Lupin's up to his usual creepin'-on-Fujiko ways.
As always, as soon as we get more information about this film, we'll be sure to share it.
Sources: Catsuka, official page
UPDATE 6/30/14: The movie came out and we saw it, read our Lupin III: Daisuke Jigen's Gravestone review here!