Mai Mai Miracle [Anime Review]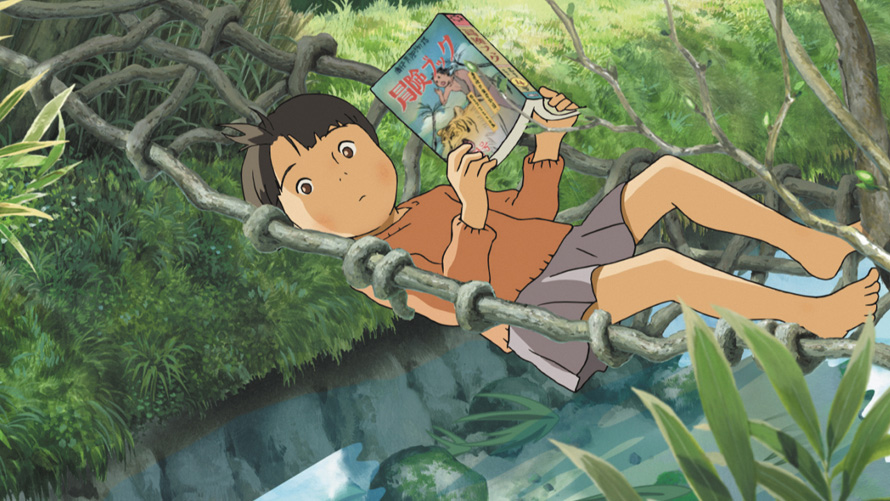 A thousand-year dream arrives after 10
Sunao Katabuchi established himself as the bona fide successor (but not imitator) to his old mentor, the late Isao Takahata of Studio Ghibli fame, with 2016's In This Corner of the World. The extended edition, In This Corner (And Other Corners) of the World will have been released in Japanese theaters by the time you read this, but Katabuchi couldn't have made that without first creating 2009's Mai Mai Miracle, a film adaptation of writer Nobuko Takagi's 2004 novelized autobiography Maimai Shinko (the original Japanese title of this movie translates to "Maimai Shinko and the Millennium Magic"). If you've not heard of Takagi, the Japanese government recently declared her a Person of Cultural Merit: a distinction given to people such as Hayao Miyazaki of Studio Ghibli and Shigeru Miyamoto of Nintendo.
If you've not heard of Mai Mai Miracle, well, that's because if there's one downside to the rise of simulcasts and VODs, it's that the US anime industry now struggles with theatrical Japanese animated films that are NOT tied in with an existing franchise. Like with In This Corner of the World, Mai Mai Miracle was years ago written off as "too Japanese" and "too commercially nonviable" to the point where it, too, had to rely on crowdfunding and multiple festival awards to see the light of day here. For those curious: Nozomi Entertainment's release is identical to the UK-based Anime Limited release from back in 2014 aside from being Region "A" for North America instead of Region "B" for Europe.
Mai Mai Miracle is about one year in the life of Shinko, an elementary school girl in rural 1950s Japan whose ailing grandfather has regaled her with stories of life on these lands a thousand years ago. Shinko's hair sports a cowlick on her forehead, which she refers to as her "mai mai" and alleges this lets her see into the past, imagining that world of long ago. When a new transfer student, Kiiko, arrives from Tokyo and is picked on for her higher-class metropolitan fashions, the energetic and cheerful Shinko befriends her. The reserved and forlorn Kiiko is thus introduced to the world as Shinko sees it, both real and imagined, as their actual relationship juxtaposes a fictional one of antiquity between an energetic yet lonely princess looking to befriend a solemnly silent castle servant.
The nontraditional plot progression brought about by the fact that real life doesn't exactly follow a three-act structure combined with a general lack of action or high fantasy elements—there's no actual time travel, as "Millennium Magic" is metaphorical for youthful imagination—makes Mai Mai Miracle a film ABOUT young kids that isn't strictly FOR them, since the childhood experience depicted is unrelatable to anybody under the age of say, 35. Who else might remember playing unsupervised outdoors all day and night, in a world where digital electronics weren't omnipresent? Theirs is a world where it was still possible to say, build a dam with the neighborhood kids out of rocks and discarded pieces of wood, or investigate a cave that was assuredly a bandit's den, or some other shared imagination devised entirely from one's own minds rather than an already provided scenario.
Originally marketed toward children, Mai Mai Miracle floundered until word of mouth revealed its true audience was middle-aged viewers and older. Katabuchi's attention to period detail in depicting places and objects long gone from our modern existence—not just from ancient Japan of a thousand years ago, but the 1950s—stems from location scouting and historical research, having visited the places Nobuko Takagi grew up in. That school building and shrine are actual places; Shinko marvels at the gas flame-powered refrigerator in Kiiko's newly developed home. These details may not necessarily be directly noticed by a viewer (unless maybe you're me interviewing Katabuchi in the Spring 2015 Anime USA, available digitally!), but it's the same meticulous approach that made In This Corner of the World (and yes, Black Lagoon) so memorable. Hopefully this leads to there finally being a US release of Katabuchi's prior film, Princess Arete!
Studio/company: Nozomi Entertainment
Available: Now
Rating: 13+