World Cosplay Summit 2015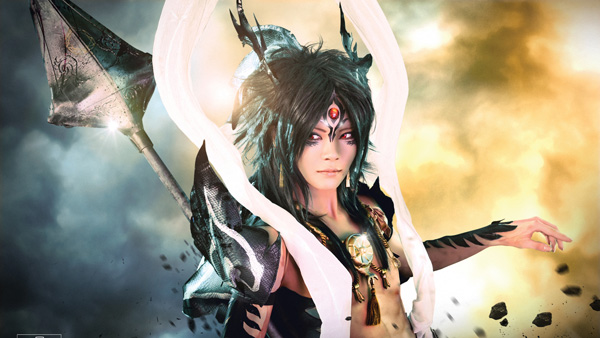 Hello, Otaku USA readers! This is Yunamo Ayakawa. How is your otaku life? My otaku life is getting messy…. I have too many cosplay costumes and they pile up and overflow in the closet. Well, here is a special report on the 2015 World Cosplay Summit (WCS). WCS had 52 cosplayers from 26 countries, including four new participating countries (Philippines, Vietnam, Portugal, and Kuwait). From Japan, the team "Ryu-en" by Mahio and Mariko entered the competition.
Mahio has 10 years of experience being a cosplayer at home and overseas, and works for the cosplay magazine COSPLAY MODE. Mariko has 27 years of experience and has been a Japanese representative for WCS twice in the past. She is a master of cosplay and won second place and a special award at the WCS. Let's ask them about the 2015 WCS!
How was the 2015 WSC?
Mariko: It was great! I spent a lot of time preparing, but it was worth participating in the competition. I met cosplayers from different countries and had an opportunity to learn from them. For example, a cosplayer from Mexico was very detailed, and I felt that he really loved the character he played. The Chinese cosplayers' posture on the stage was perfect as they were dancers.
Mahio: This is my first entry at the WSC, so I was very nervous about everything such as the performance rules and regulations. But I was able to interact with cosplayers from overseas and enjoyed the 12-day competitions. The Mexican team who cosplayed Legend of Zelda was awesome. Their costumes displayed high quality with a delicate balance of beauty and passion. The Indonesian team's cosplay of Silent Hill gave me goose bumps. Their costumes were simple, but their performance outshined! I cannot talk all about the WCS since every team and performance was impressive.
You chose characters from the popular manga Magi to play— Mariko played Ren Kouen and Mahio did Hakuryu. I loved your performance since you beautifully and emotionally performed a fight for the inheritance of the throne. How do you feel after you have finished such a wonderful stage performance?
Mariko: I chose Magi since I like the relationship between Kouen and Hakuryu. When I decided to cosplay these characters, I wanted to show a climax of their relationship. I was not sure about a possible ending, but we used our imagination and created a story. The manga story developed in a different way than we imagined, but it was fun to create our own story line. I heard good reviews for our performance from Magi fans, and it meant a lot to me.
Mahio: My goal was to introduce Magi to those who never heard of it through my cosplay performance. I tend to get into character, so I was thinking of Kouen's love and frustrations toward Hakuryu. As Hakuryu I got emotional and felt "Why doesn't Kouen understand me" and cried on the stage. I was very happy to become one with my character.
What was the hardest and most rewarding thing throughout the competition?
Mariko: Japan has hot weather in August! It was difficult to move freely. I needed to wear body tights with scales made of thermal insulation, covering 70% of my lower body and 50% of my upper body. In addition, this character has snake hairs, and it was very hard to move the hairs with me. The sword did not have a handle, so it was very difficult to hold. The sword was decorated with sharp, pointed decorations, so I had a lot of scratches. This is my third entry at the competition, and I was happy to see familiar faces again. They encouraged me, saying, "Looking forward to seeing your performance." Also I met new people. I was flattered to hear them saying, "I wanted to see you for long time," and "I am here today since I was inspired by your performance."
Mahio: Since I have a day job, I needed to work on my costume after work. I stayed up till morning and was busy every day. I worked out to perform the sword fight, and build muscles on my arms. Oh my, they no longer look like women's arms! This is my first competition at the WCS, but people recognized me and gave me kind comments, like "I like Magi, so looking forward to seeing your performance." Also they congratulated me for winning a prize, and I was very touched by their words.
Do you have a message for cosplayers and Otaku USA readers?
Mariko: WCS has become competitive, but do what you like. Play your favorite character and enjoy yourself. The world of cosplay is very deep and I am learning new things every day. I hope to see you all in the future.
Mahio: The spirit of challenge is important. It is hard to challenge yourself, but you will be able to hone your skills and performance. Also you will grow in many ways; your career and personal life will be more fulfilled. The better cosplay life you have, the richer life you will enjoy.
Thank you Mariko and Mahio! They won the JOYSOUND award this year because of their fabulous costumes and passionate performance. They will be attending overseas events soon, so you will have a chance to meet them. WSC will be held next year, too. Maybe YOU will be the champion next year!
Mariko
Twitter: marigon1013
Facebook: marigon1013 (only Mariko)
Facebook: CosplayJapan2015 (ryu-en)
World Cosplay: 347716 or marigon1013
Mahio
Twitter: @mahigaku
Facebook: AsMahioCosplay/WCS2015Team
World Cosplay No. 2871 worldcosplay.net/member/mahio
Japan: CosplayJapan2015/
World Cosplay Summit: www.worldcosplaysummit.jp/