TOKYO TERMINAL DIARY: Third Dimensional World
Warning: This cyber/neural transmission is under surveillance by "net-jackers" and could conclude at any moments.
Here's what you need to know:
Tokyo. Again. Late February, 2011. I am dining on curry n' nan in Shinjuku with the otherworldly Kiria Noir Arondight and Franck Shigetora, he of the rather astounding neo-retro cyberpunk electro music unit VALKILLY.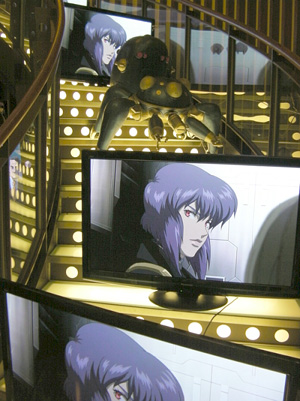 The conversation, as it is wont to do, soon drifted towards our favorite science fiction anime of the late eighties to early nineties. We waxed nostalgic about Megazone 23 Part 2, AKIRA, Genocyber, and of course, Mamoru Oshii's original, seminal Ghost in the Shell. They were products of another era: a time when the bigger a computer was, the better it must be. Japan was a colossus that just about had the world's economy within its grasp… but then it all went wrong somehow. Japan went into a decades-long recession. Scary all-powerful computers became "personal" and got a whole lot smaller. And SF anime with a strong cyber slant began to decrease in number.
But before I make like a diminished rundown model headed for the scrap, Franck slipped me some good news. "Hey, you know the Shinjuku Wald 9 movie theater?" Indeed, I did… "I heard that they're going to be remodeling entire sections of the building to promote the new Ghost in the Shell 3-D movie."
With visions of mohawked cyborgs and exposed wiring bouncing around in my head, I make a note to check out the Wald 9 theater on the day of the campaign launch: Friday, February 25.
Fast-forward-fever-dreams to a few days later: I stand in a theater lobby crowded with hardcore anime geeks. But they've come to the Wald 9 purely to watch the new Macross Frontier movie. It is entirely possible that I am the only one crazy enough to brave bitter cold and nasty rain just to see the Ghost in the Shell 3D promotional blitz. It takes me a few minutes to even find evidence of it… but lo and behold…
A Tachikoma mech sits atop a staircase in the middle of a row of glowing TV sets. They're playing the trailer for the Ghost in the Shell S.A.C. Solid State Society 3D anime film (which opens on March 26 in Japan) on a loop. To the left is yet another TV screen—a biggie this time—playing the trailer in stereoscopic 3D. The whole thing looks a bit like a demo setup at the TV section of Best Buy: rows of glasses are lined up for folks to try out.
At first, I'm disappointed. Is that all there is to this supposed Solid State Society? Then I spy a sign near the snack bar. Alongside the usual popcorn and Cokes, a few Ghost in the Shell S.A.C. goods are already on sale including 500 yen cookies imprinted with Tachikoma and the S.S.S. logo. There's also an "original tumbler" (think coffee mug meets sippy cup) for 2500 yen, designed to prevent fluids from getting into your mainframe, I guess.
But the main event is upstairs on the 9th floor. The entire café space has indeed been given the full Ghost in the Shell S.A.C. treatment. Renamed the "Shell Café" it comes complete with black walls and inscrutable lines of glowing code and heads-up displays. Frame blow-ups of art from the new film line the walls. Best of all are the crazy specialty drinks on the menu which range from "Tachikoma macha" tea, "interface bagels", and "hard cyborg beer", all served on collectable and randomly selected S.A.C. drink coasters emblazoned with the faces of Batou and co.
Suddenly, I knew that the future was going to be alright… all over again.
Ghost in the Shell S.A.C. Solid State Society 3D opens March 26, 2011 in Japan.
Shinjuku Wald 9 Shell Café homepage
https://www.t-joy.net/koukaku/
Patrick Macias is the editor in chief of Otaku USA magazine. His blog can be found online at  www.patrickmacias.blogs.com