Otaku USA Magazine Celebrates Sixth Anniversary
In the offices of Otaku USA we're in the middle of a mad feeding frenzy of cake and ice cream, along with a side helping of noise-makers and festive conical hats. THAT'S BECAUSE THE NEW ISSUE MARKS OUR SIXTH YEAR OF PUBLICATION!
That's right! Otaku USA first launched waaaaay back in August 2007 with a cover story on that immortal classic of anime now regarded as a masterpiece: Highlander: The Search for Vengeance (I kid … but only a little bit). What memories! A lot of people were skeptical that we could ever pull it off. After all, back then, we had some fair share of competition in the form of other anime publications, the magazine racket wasn't exactly in the full bloom of health, and there was this thing called "the Internet" that had a way of making some people (perhaps looking for a quick self-esteem boost) jump up and start shouting, "I don't need magazines! I have a computer!"
I don't need to tell you how it worked out. The voyage has not been without its share of the dramatic: We've seen several competitors bite the dust (but not the Internet … yet), have waved bye-bye to a few anime companies even, made the transition to digital with an ePub version of the mag, and just generally have tried our best to stay afloat during a stormy economy. We've even had typos!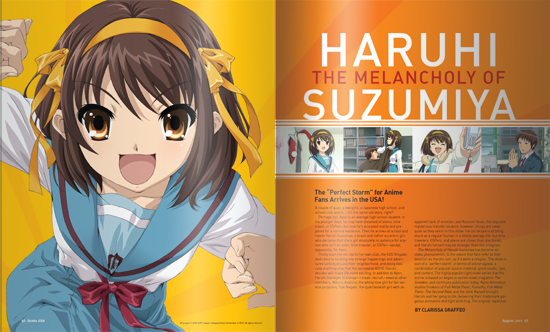 If the magazine has managed to somehow survive the odds, I think there are two big reasons for it. Reason one: Our incredible contributors who write the fabulous words that you read. Reason two: YOU! Even though I risk sounding all cornball and sentimental by saying this, we literally could not keep Otaku USA going for six years—heck, even for six minutes!—without a fantastic bunch of readers supporting us.
Here's what you'll find in the latest issue, which is on sale now. Starting with our cover feature, wherein Mike Dent is accused of a crime he didn't commit (yet) and has to write his own "get out of jail" card in the form of a feature on Psycho-Pass. Then, Mike does double duty by actually getting trapped inside a video game where he manages to send us a feature on Sword Art Online tapped out in thrilling Morse code. Meanwhile, Evan Minto puts a "Gone Fishin" sign around his neck and makes for the hinterlands of Enoshima where he stands knee deep in fish-infested waters to deliver a stirring essay on Tsuritama. Next, Daryl Surat unexpectedly decides to become a crazed idol fan and sells all his worldly goods to buy limited edition AKB48 merchandise, the down payment being his feature praising the likes of the AKB0048 anime. Finally, Brian Camp risks life and limb at the New York International Children's Film Festival to bring us an interview with Mamoru Hosoda, director of not only Wolf Children, but Digimon: The Movie to boot! In between, you'll find our usual departments dripping with the likes of cosplay, video games, music, and other fantastic morsels from the land known as "Japan."
So this one's for you: thanks and enjoy the latest issue of Otaku USA!
Read our full story on Sword Art Online, and more, in the August 2013 issue of Otaku USA Magazine. Celebrate our anniversary by
buying it from from our online store, pick up some back issues,
or subscribe to get every issue!