Five Points About Tokyo's Macross Frontier Cafe
July saw the changing of the guard at Namco's Characro – a anime cafe and bar with rotating themes – from Tiger and Bunny to Macross Frontier. Named Nyan Nyan after the Chinese restaurant featured in the show, the Macross Frontier cafe and bar is set to run until through January of next year. Here's five things we noticed during our visit.
1. The Food Is Ridiculous
Most anime cafes have food that fits the theme, but only a few have food that comes straight from the anime itself, and only Nyan Nyan has the ridiculous boob-joke rice balls served in Macross Frontier.
Other items include a curry and rice dish where the rice is shaped like a Valkyrie and ice cream made to form the body of Ranka's pet Ai-kun.
2. Audience Participation Is Encouraged
There you are, quietly munching on your Valkyrie curry and minding your own business when the lights go off, sirens blare, and Captain Wilder comes on screen with the news the cafe is under attack by Macross Frontier's villains, the Vajra, and the only thing that can stop them is for everyone in the cafe to sing along with Sheryl and Ranka to Frontier's theme song. Naturally.
3. You're Going To Hear The Same Songs A Lot
There are no less than six Macross Frontier soundtrack albums, says Wikipedia, but you wouldn't know it dining at Nyan Nyan. Within the 100-minute time limit you're allowed to stay in the cafe, you're going to hear the same few songs over and over, especially Ranka's "What 'bout My Star?" – perhaps it's a subliminal attempt to encourage you to purchase the chips and salsa set "What 'bout my dip?"
4. Merchandise is Plentiful
No surprise here, but pillows, mugs, buttons, pins, notebooks – any Macross Frontier trinkets you can imagine are available. Guests are given a free business card-size sticker on entrance.
5. The Staff Really Love Macross (or at least do a good job pretending they do)
Amazingly, the staff of Nyan Nyan don't seem to be burned out on Macross Frontier (or if they are, they do a darn good job of not showing it). In between serving customers, staff members were seen dancing to the songs, quoting their favorite characters, and engaging in the neverending Sheryl vs. Ranka debate.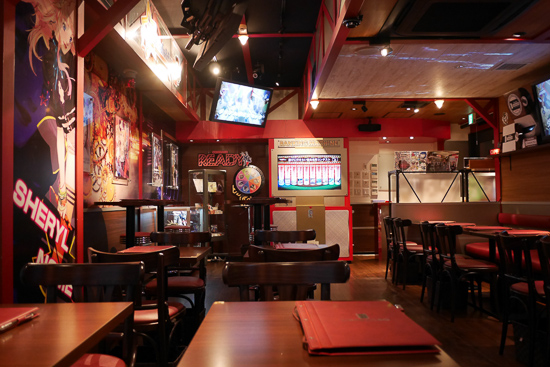 Bonus: Beat the crowd, go on a weekday
Visiting Nyan Nyan on the weekend requires a reservation – though you can make one online, it can still be a pain in the butt. Save yourself the trouble and go on a weekday, when no reservation is required. They're open in the day from 11:30 to 5 and the evening from 6:30 to 10:30.
Cafe and Bar Characro feat. Macross Frontier: Nyan Nyan Cafe and Bar
1-32-4 Ikebukuro, Toshima-ku, Tokyo