Slayers 25th Anniversary Exhibition Report
As we entered the space, the first thing we encountered was a greeting from Rui Araizumi, who illustrated the original Slayers manga. Araizumi's note, welcoming visitors to the exhibition, said, among other things, "since you've come all the way here, there's no choice – I'm about to reveal all of Lina's embarrassing moments!"
Following were a series of framed illustrations, plus a long scroll-like poster that spanned the entirety of one wall, covered in familiar faces from the long-running franchise.
On a pair of tables were notebooks in which fans could write their memories of the series and leave their own illustrations.
There was also a computer set on a loop showing how illustrations are digitally scanned and colored. Pumping out of the speakers were some extremely nostalgic Slayers opening and ending theme songs. Megumi Hayashibara forever.
Upon exiting the exhibition proper one could buy the usual requisite merchandise: posters, folders and the like. But GoFa also teamed up with the coffee shop downstairs to offer Slayers-styled cappuccino. We elected to go with good old Lina, and also received two free coasters.
The 25th anniversary Slayers exhibition wasn't the experience of a lifetime – GoFa is a pretty small space to begin with, and most of the art can probably be seen elsewhere. Still, for a fan who got into anime in the nineties when Slayers was huge, it was a nice trip down memory lane.
Slayers 25th Anniversary Exhibition
Gallery of Fantastic Art
Aoyama Oval Building 2F, 5-52-2 Jingumae, Shibuya-ku, Tokyo 150-0001
¥1,000
Ends August 30
https://www.tokyoartbeat.com/event/2015/1FB6
---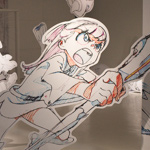 Related Stories:

– Slayers: A Retrospective
–
Little Witch Academia/Anime Mirai Exhibition
– Akira meets The Simpsons, for charity
– Godzilla Exhibition Opens In Tokyo