Peepo Choo vol. 2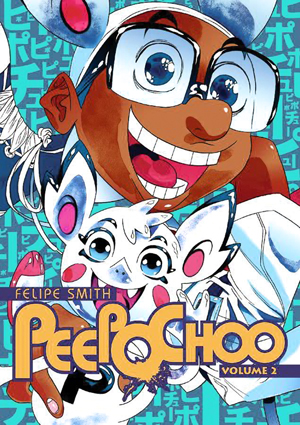 Milton's magical mystery tour of Japan kicks off properly in the second volume of Felipe Smith's Peepo Choo, and it does so with the shocking screech of harsh reality. Having recently arrived with the hot-tempered, otaku-hating Jody, Milton is more than eager to "communicate" with the people of this nerd wonderland, with the utmost confidence that they'll all appreciate his own appreciation of their zany export anime, Peepo Choo. His idealism is dashed, though, and he quickly finds himself as isolated in Japan as he was in America.
Our short and dorky hero's story acts as the centerpiece of Peepo Choo, but the other pieces of the puzzle—from the US-fetishizing Rockstar's violent rise through the yakuza ranks to the gangster assassination spree that fueled this overseas expedition in the first place—come crashing and booming into one another. On top of that, we're offered a lot more insight into characters like Reiko; you know, that busty girl on the cover of volume one that made you slightly embarrassed to purchase a copy.
The converging stories aren't overwhelming, and the way they play into one another more and more helps drive home the wild attitude bursting from the comic from page one. There's always something entertaining coming up in Peepo Choo, and Smith draws every panel of it with a tightly controlled recklessness. His art continues to infuse Spumco expressions and animated movement with a more traditional manga style, just short of including his very own version of the "gross-up close-up." Okay, maybe those are there, too, in a way.
If the first volume was a zany Grand Guignol of clashing American nerd stereotypes, the second is our very own personal "Cool Japan" culture shock. While Milton both expects and embraces the ridiculous aspects of Japan, Jody winces and rejects the nonsensical television, overabundance of super-cute mascots, and humor that hinges on involuntary "KANCHO!" enemas. It isn't until Milton finds out the cold, hard truth behind Peepo Choo's popularity in Japan that the shock sinks in, leaving him with a familiar sense of wondering just where, if anywhere, he can truly fit in.
You'll laugh at Milton's earnest attempt to make himself at home in Japan, then nod grimly at how close to home it hits for many. The same goes for the wickedly unscrupulous owner of Japa-tastic Inc., the fictional US licensor that originally brought Peepo Choo to American shores. Their promise of the "next big thing in Japan" is just as deceptive as the Gaijin Wonderland fairy tales wistfully woven by Milton and his comic shop peers. This would all be capital-G grim if not for the sharp humor Smith uses to pick it all apart. His little cautionary tale may be worth taking to heart, but it's also as purposefully in your face as Peepo Choo itself.
Like I said in my review of the first volume, Felipe Smith's work in Peepo Choo continues to push forward the notion that these are comics first, eschewing a need to classify by region. If you've got pipe dreams of working at editorial gunpoint in Japan, pick up this book. If you don't, pick up this book. Even beyond what Peepo Choo has to say about cultural misconceptions and the reality of the industry, it's got even more to say about the payoff of extremely hard work. That's a lesson we can all take to heart.
Publisher: Vertical Inc.
Story & Art: Felipe Smith
© 2010 by Felipe Smith