Animate Ikebukuro Tour
Most Tokyophiles are well aware of Akihabara, east Tokyo's hub for all things anime, manga, and general otaku-related shopping, and readers of Otaku USA e-News have also gotten a peek at Nakano, west Tokyo's slightly hipper, grungier answer to Akiba.
One Tokyo neighborhood we haven't touched on a lot, though, is Ikebukuro, which lies on the northwest corner of Tokyo's commuter Yamanote line loop. While Akiba is nerd central and Nakano boasts the maze-like Broadway, Ikebukuro's claim to fame is definitely as the top spot for otaku girls. That's because Ikebukuro is the home of Otome Road, literally "Girl's Road," a collection of shops catering to otaku women. And Otome Road's centerpiece is definitely the anime and manga megashop, Animate.
Animate is the largest chain of anime-related stores in Japan. Founded 30 years ago in none other than Ikebukuro, Animate now boasts more than 100 shops throughout the country, as well as two in Taiwan. Last year, the Ikebukuro store was moved a few blocks down the road, and the new location is, believe it or not, the largest anime store in Japan.
Normally photos are a no-go, but Animate was kind enough to give us a tour of the place. Let's take a look.
Starting at the entrance, it's clear this is a female-oriented shop. Just look at those pretty boys.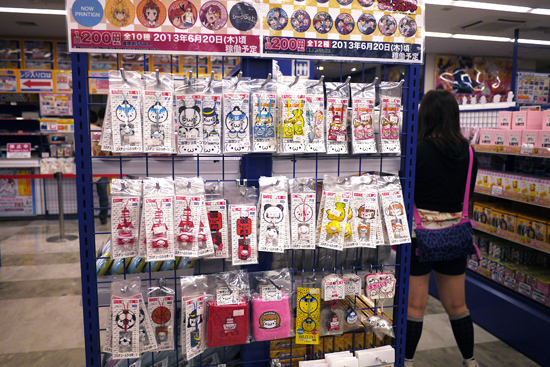 The first floor feels like a preview of what's to come in the rest of the shop. It's filled with small trinkets and souvenirs, like anime-branded candies and cell phone straps.
The stairs and elevators at Animate are always decked out in promotion of a current title and are changed about once a month. This month's title is Uta no Prince Sama, which is a huge hit among female fans.
The second, third and fourth floors house the bread and butter of any otaku shop: the manga. As noted, Ikebukuro's Animate focuses on female fans, but there's something for everyone here, including the phenomenon Attack on Titan. Animate's staff participated in a nationwide contest seeing who could build the coolest Attack on Titan display and won a well-deserved second place with this display – the titan's mouth even opens and closes.
Floors five, six, and seven (we told you this place was big) are home to the other products you might expect – DVDs, toys, trading cards, video games – and some you might not expect, like anime-branded wine and sake.
Across the street, where the old Ikebukuro store used to be, is Animate ACOS, a shop specializing in cosplay. For western fans used to the "DIY" style of most costumes at American conventions, walking into ACOS is something of a shock. Character-specific wigs, accessories and entire outfits are available, though one can also buy more basic, malleable goods, if they're interested in doing things DIY style.
Animate is clearly filled to the brim with goods, but one need not buy anything to enjoy the store. One of the goals of the company is to keep customers coming back by creating a comfortable and interesting environment. For fans, there's a lot of fun to be had just walking around the store, and it's clear the staff who run the store have as much passion for this stuff as the shoppers do. American fans making a trip to Japan, especially female ones, would be well-advised not to miss Ikebukuro's Otome Road, and particularly Animate.
If you're a subscriber to Otaku USA e-news, make sure to check the latest issue for an exclusive coupon for 5% off at Animate Ikebukuro, and if you're not – that's the kind of stuff you're missing out on! Subscribe now!
This story originally ran in the 7/23/13 issue of the Otaku USA e-News
e-mail newsletter. If you're not on the mailing list, then you're reading it late!
Click here to join.