Ed Sheeran Doing Limited Time Collaboration with Pokémon GO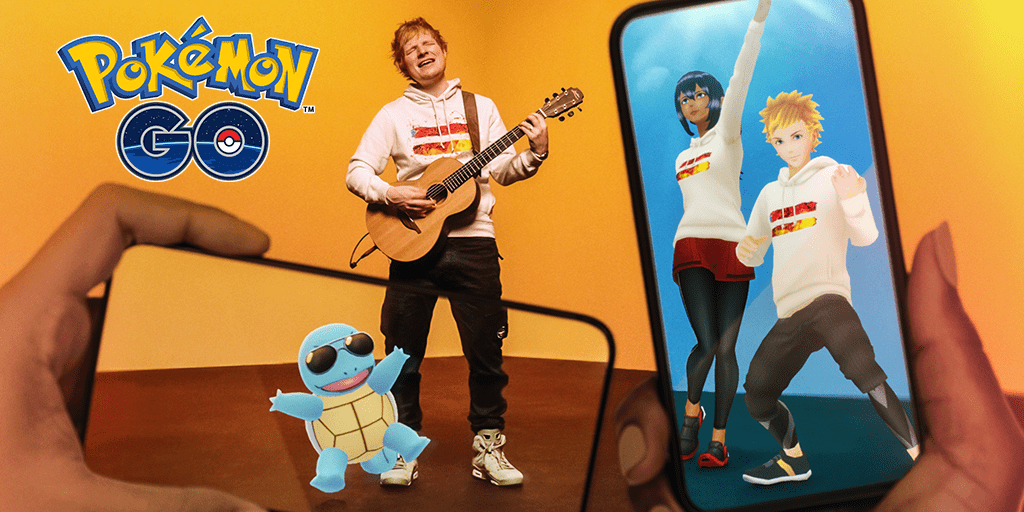 Who is Ed Sheeran's favorite Pokémon? It's Squirtle, who's all about wearing sunglasses for the special collaboration going on between the pop star and the pop culture sensation Pokémon GO.
"A Special Ed Sheeran performance will be available through the Pokémon GO app," Pokémon GO explained in its blog. "You'll be able to check out the performance in the in-game News beginning on Monday, November 22, 2021, at 11:00 a.m. PST (GMT −8)." It lasts until "November 30, 2021, at 1:00 p.m. PST (GMT -8)."
It won't tell us all the songs involved, but some will be from Sheeran's new album =, and the songs they teased us with are "Perfect," "Bad Habits," "Overpass Graffiti," "Thinking Out Loud," "First Times" and "Shivers."
The blog continued, "Ed always chooses the Water-type Pokémon as his first partner when he starts a Pokémon RPG. In celebration of this collaboration, look forward to an event featuring all of the Water-type first-partner Pokémon currently available in Pokémon GO!"
We're also told that during this collaboration, Totodile, Mudkip, Piplup and Oshawott "will be appearing somewhat frequently in the wild." And we're also teased that we'll be lucky if we stumble upon Froakie or Squirtle wearing sunglasses. And if we're even more lucky, the Squirtle with sunglasses might just be shiny.
During the event you can also get a = sweatshirt in the game, "Water-type-themed stickers by spinning PokéStops, opening Gifts, and purchasing them from the in-game shop," and a "One-time free Event Box: A Lure Module, 20 Pokéballs, 10 Razz Berries, and 10 Pinap Berries."
This isn't the first time the Pokémon franchise has gotten involved with a Western pop star, though it isn't a regular event, either. American pop star Katy Perry has also been involved with the Pokémon franchise as it celebrates its 25th anniversary this year.
Are you interested in this Ed Sheeran/Pokémon GO collaboration?
Source: Pokémon GO blog
____
Danica Davidson is the author of the bestselling Manga Art for Beginners with artist Melanie Westin, and its sequel, Manga Art for Intermediates, with professional Japanese mangaka Rena Saiya. Check out her other comics and books at www.danicadavidson.com.