Demon City Shinjuku [Anime Review]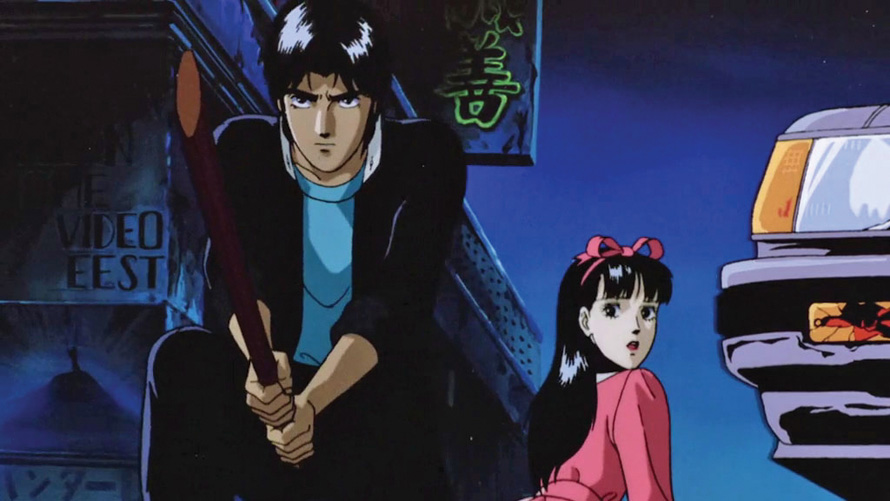 Only Trust Your Bokuto
32 years following its release, 1988's Demon City Shinjuku still remains the greatest anime ever made about a teen chopping up horrible monsters and the occasional buff wizard using a wooden stick, with the sporadic support of a little person grenadier on jet-propelled roller skates and a girl with a ring that fires laser rays. For reasons unacceptable, there is little competition. But the action-packed classic offers everything I truly crave from Japanese animation, as is common with works from the most-dangerous duo of light novelist Hideyuki Kikuchi (best known for creating Vampire Hunter D) and legendary director Yoshiaki Kawajiri (best known for Ninja Scroll and most anime adaptations of Kikuchi's writings).
You see, ten years ago two master practitioners of the Nempo sword style found themselves at odds with one another. Rebi Ra forged a demonic pact to grant him the ability to shoot laser beams from his sword and used his dark magical powers to kill his rival Genichiro (who made the mistake of bringing a wooden stick to a laser-beam-firing metal sword fight) and transform the Shinjuku ward of Tokyo into a massive summoning circle. Now, only hideous monsters, knife licking goons, mysteriously handsome doctors with explosive scalpels, and approximately one sullen ramen cart owner occupy the metropolis.
With mere days remaining before Rebi Ra's ritual is complete, it falls to rookie youth Nempo practitioner Kyoya Izayoi to take a break from instructing proper kendo form to the neighborhood kids and finish the job his father started…with the help of the World Federation President's daughter, of course. That's because the President was incapacitated while getting off of his space shuttle when Miss Universe gave him a bouquet of roses that Rebi Ra cursed…okay listen: if you can't already infer it, there's a whole lot of vintage 1980s John Carpenter-inspired insanity JAM-PACKED into Demon City Shinjuku despite its 80-minute running time and the fact that its plot progression is effectively like a 2D side-scrolling beat 'em up.
Execution supersedes plot and characterization in action movies, and the combined efforts of anime studio Madhouse with Kawajiri's inimitable design aesthetics and fight choreography make Demon City Shinjuku stand the test of time. Those wishing to appreciate the more technical merits of the work would do well to view the 25 minutes of storyboard animatics for key scenes set to the finished audio, similar to what was done for Robot Carnival. But as an owner of Discotek's previous DVD release, what made this release particularly worth the double dip is the fact that the 1080p Blu-Ray high-definition remastered picture quality is fantastic.
It's an especially massive quality bump over the version streaming free online, which is extremely dark and lacking in detail. The original Japanese stereo audio as well as a newer multi-channel mix are included on the disc, and for those of you with fond memories of Sci-Fi Channel's "Saturday Anime" showings of this, you even have the UK-produced English dub as an audio option. Sure, it's got some of the absolute worst attempts at a US Southern accent ever recorded (and then
there's the "Tattoo from Fantasy Island" impersonation used for "Chibi," the kid sidekick), but I have fond memories of that dub thanks mainly to the memorable performance from Bob Sessions as the villain, Rebi Ra.
It's quite easy to mix up Demon City Shinjuku with the more graphic Wicked City from the same creators (Blu-Ray forthcoming). Just remember: this one has SWORDS, and that one has GUNS. Also, this is the one with more Jojo's Bizarre Adventure-caliber murder of cats and dogs and less likelihood of someone you know walking in as you're watching and spotting a naked monster woman. (Note: less is not zero.) THIS one's spider demon here gets cut in half, THEN electrocuted, THEN has a grenade chucked into its open screaming mouth while—actually, y'know what? Own 'em both.
studio/company: Discotek Media
available: Now
rating: 17+