Hajime no Ippo: The Fighting! TV Series Collection [Anime Review]
The most jacked featherweights ever
The definitive boxing anime of the 2000s is back, and perhaps for the first time it's getting a fair shot at success in the US. It took Jyoji "George" Morikawa roughly a decade before he would agree to permit his signature boxing manga series, Hajime no Ippo ("The First Step" or maybe "Ippo's Beginning") to be adapted into anime, only acquiescing once he found out that producer Masao Maruyama and animation studio Madhouse were responsible for the definitive boxing anime of his childhood: Tomorrow's Joe, whose legacy lives on through the commemorative series Megalobox.
In the 21 years since, Ippo has held onto a fervent yet small American fanbase, and the stymied growth is due entirely to the fractured release it's had in North America. The now-defunct Geneon Entertainment released the first season under the name Fighting Spirit! and did their best to appeal to sports fans rather than anime fans, to no avail. The second series, Hajime no Ippo: New Challenger, was never officially released in the U.S. such that when the third series, Hajime no Ippo: Rising, was simulcast on Crunchyroll, few tuned in because there was no way to easily see the beginning or middle. Now, years later, Discotek Media is remedying the accessibility issue, as Hajime no Ippo: The Fighting! is now streaming on Crunchyroll and also available on Blu-Ray over three sets each containing over 20 episodes.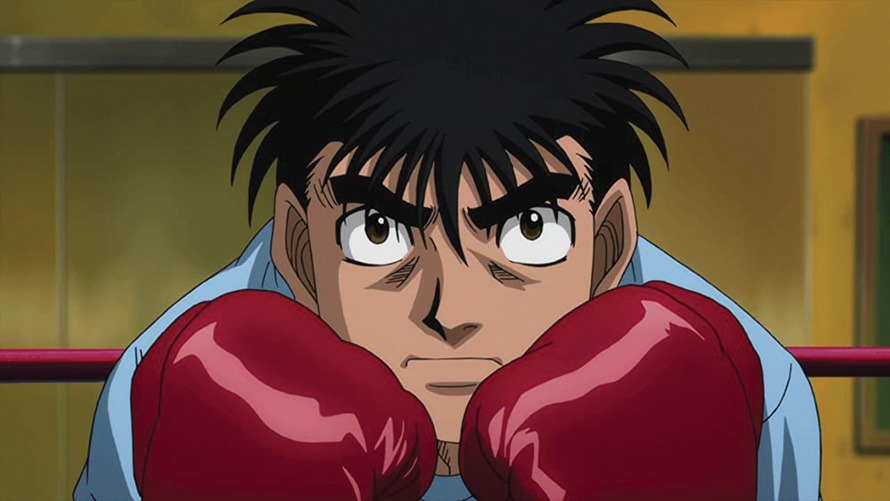 The diminutive and unassertive Ippo Makunouchi is picked on in school despite his years of helping his widowed mother operate a fishing boat granting him power and a sturdy build. An encounter with a professional boxer, the boisterous Mamoru Takamura, inspires Ippo to take his first step along the champion road. As he trains to Be Like Mike (Tyson), the in-fighting Ippo befriends a fated rival, out-boxer Ichiro Miyata, for whom he promises to one day face once they've both become accomplished professionals. Let me stop here: as of the year 2021, after 32 years of manga and titles acquired/defended, this fated bout has yet to occur as that would effectively mark the series finale. But there are many other glorious rivals/friends, and we get to know them all … and watch them punch each other with such force you'd think every blow landed was fatal! Seriously, Ippo has got to feature the most jacked featherweights ever. 5'5", 126 pounds? FIVE FOOT FIVE, 126 POUNDS?!
Execution is what matters most in sports anime, and Hajime no Ippo smashes (and jolt counters, and gazelle punches …) it out of the park through a combination of character studies portraying not just Ippo and his gym mates as sympathetic but also his opponents, goofy (often lowbrow) humor, stellar animation from Madhouse (years later they would bring us One-Punch Man season 1), inspired sound design, and a guitar riff-heavy soundtrack courtesy of Tsuneo Imahori of Trigun fame (guitarist on Cowboy Bebop and Wolf's Rain). Director Satoshi Nishimura (Trigun, Ushio and Tora) elevates the source material by wisely rearranging or sometimes omitting scenes from the original manga, and the result is that despite its length, the series never particularly drags.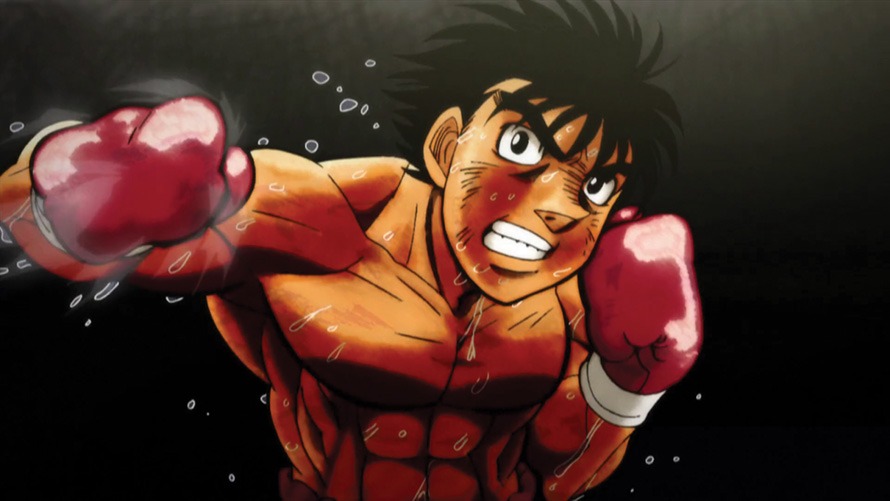 But let's face facts: Hajime no Ippo has always been critically beloved yet largely passed over by fans, and this is now a series from 21 years ago that precedes the practice of TV animation being produced in widescreen high-definition. It doesn't feel like "old anime" since the video has been upscaled nicely to HD, and hopefully the 4:3 aspect ratio resulting in black bars on the side of the HDTV screen isn't off-putting. After all, otaku ensure they watch the proper versions of Dragon Ball Z (or the "Snyder Cut" of Justice League, to use a 2021 example).
The manga has continued on unabated for well over 775 chapters and counting past where the anime left off (some would argue past shelf life), so potential continuations of Hajime no Ippo depend on the now 80-year-old Masao Maruyama, who has departed Madhouse to form studio MAPPA … and then he departed THAT to form studio M2. But we fans have to take the first step, and there's never been an easier time than now.
Studio/Company: Discotek/Crunchyroll
Rating: 13+