Awesome Con Makes Its Debut
Hi, everybody! Yunmao here with another convention cosplay report. This time my spies went to Awesome Con D.C. in Washington, DC!
Awesome Con D.C. is Washington, DC's newest comic book convention and is put on by Awesome Conventions LLC in association with Third Eye Comics, a retail comic book chain in the local DC/Maryland area. It took place on April 20th and 21st and, though not the first comic convention in DC, ultimately broke the mold by welcoming a reported 4000 pre-regs before the week of the convention and ushering in lots more patrons over the two-day weekend!
Third Eye Comics took bold steps in creating this amazing event, including holding it in the Washington Convention Center—a place other conventions in the area have avoided—but their bold move paid off and is letting others know there is much to look forward to in upcoming years! Another bold move was inviting unbelievable Hollywood and comic book stars to help kick off this debut event. Some of the Hollywood guests included Nicholas Brendon from Buffy The Vampire Slayer and Criminal Minds; Billy West from Futurama, Ren & Stimpy, Doug, and Looney Tunes; and Theodus Crane from The Walking Dead. And of course there was an abundance of comic book and artist guests including Larry Hama from GI Joe, Wolverine, and Batman; Justin Jordan from Luther Strode, Team 7, and Superboy;  Herb Trimpe from Incredible Hulk and Wolverine; Greg LaRocque from Spider-Man and Flash; and the amazing performance art team Super Art Fight to name a few.
This brings us to the best part of the convention, COSPLAY!! It is wonderful to see the variety of costumes from comic books, movies, and U.S. and Japanese animation. At many times many characters interacted with each other as witnessed in an impromptu mock wrestling match between Spiderman, Sonic the Hedgehog and Deadpool in the lobby, and many common characters came together for pictures.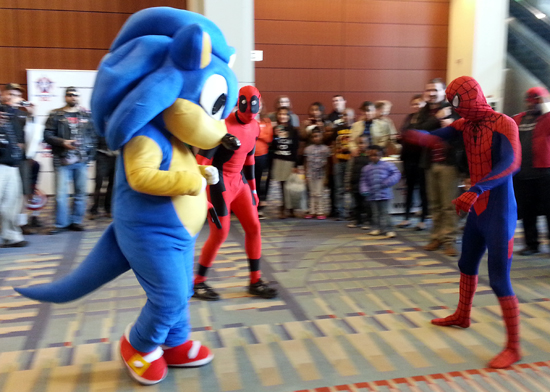 It is good that Washington, DC has a major comic convention with such a great start. No doubt it will be bigger and better in years to come, and many more cosplayers will convene to celebrate.