Attack on Titan Crosses Over With Marvel, MapleStory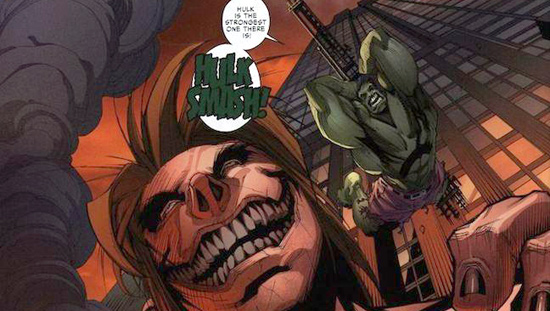 Attack on Titan, which I don't think at this point requires any introduction, is doing some major crossing over this week, appearing both in the pages of Marvel comics and the virtual word of MapleStory.
Have you ever participated in Free Comic Book Day, the yearly event in which comic book stores and publishers team up to bring in foot traffic by giving away a freebie comic?
If not, you may soon, because Marvel's offering this year has definite anime fan appeal.
They're set to give away copies of Attack on Avengers, the Marvel/Attack on Titan crossover that was released in Japan last November.
Attack on Avengers pits Spider-Man and the Avengers crew (plus the Guardians of the Galaxy) against Titans rampaging their way through New York City. The scenario was written by Hajime Isayama with art from Gerardo Sandoval.
If that ain't enough for you, manga publishers Viz, Kodansha and Udon Books are expected to have free comics on offer too. This year's Free Comic Book Day is May 2.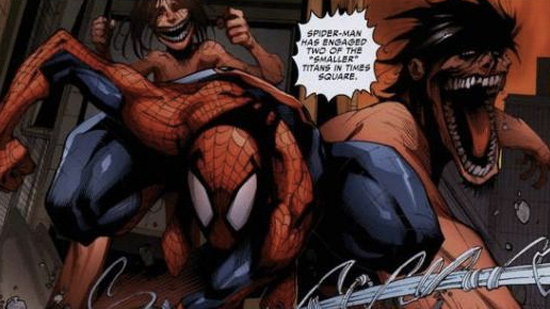 Meanwhile, Attack on Titan has teamed up with MapleStory, the free-to-play side-scrolling MMORPG from developer Wizet. Players with characters who are level 30 or above can enter the Attack on Titan world and take on the Colossal Titan, train with Eren and Mikasa, and get Attack on Titan-themed gear.
As with most of the coolest things in MapleStory, special coins (i.e. real money) is required to access the Titan content. The rest of us, though, can bask in that cute sprite-based Titan art for free.
This isn't the first or last time Attack on Titan will end up in a product tie-in: a new batch of Titan plum wine is reportedly being whipped up, and the Titan attraction at Universal Studios Japan is set to open Jan 23 (tomorrow!).
What'd you like to see tie up with Titan?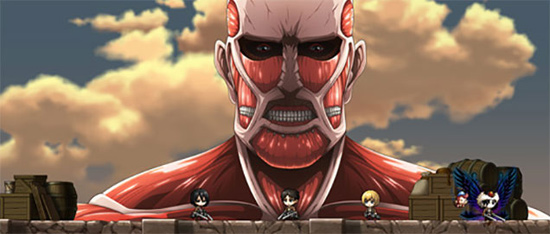 Source: ANN
---
Related Stories:

– Attack on Titan Crosses Over with Marvel
– Live-Action Attack on Titan Visual is Colossal
– Attack on Titan Anime Continues in 2016
– Live-action Attack on Titan Visuals Revealed
– Attack on Titan Part 1: Crimson Bow and Arrow Film Review