Five Reasons Tropical-Rouge! PreCure Has Our Attention
The PreCure franchise has been running strong for more than 15 years. And in February, we get a new installment! Tropical-Rouge! PreCure teases a summery, beachy, brilliant new team. We only know a little so far, but what we do know has us excited. Here's what we're curious about as we await the 2021 premiere.
The leader is a Rainbow Cure
In the world of PreCure, pink Cures are kind of like red rangers: they're traditionally the leaders. (Cure Black of the first season is a bit of a hand-wave exception, as pink was her secondary color.) But the reveal of Cure Summer gives us something we haven't seen yet: a lead cure with a rainbow color scheme! Visiting the official character listing confirms it, if her look isn't enough to go on. She's not the first rainbow-themed magical girl the series has had — Cure Parfait is another, for one. But for a tropical series, it definitely seems like an appropriate look for their leader.
There's a mermaid!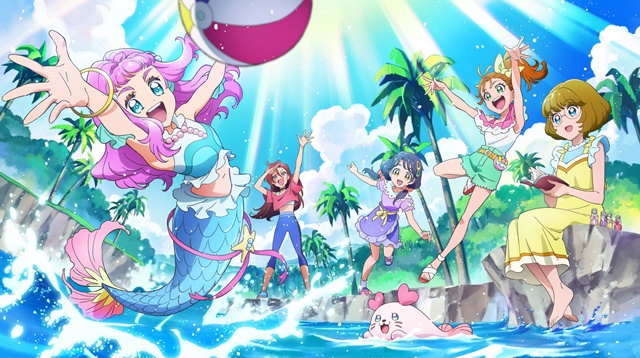 PreCure has no shortage of mystical people and creatures. Over the years, the girls have met (and sometimes been) everything from fairies to aliens. But outside of one-shot characters, new girl Lola is the first time we've ever had a straight-up mermaid in the cast. Playing into the beachy theme, Lola has come from her underwater kingdom to petition the legendary magical girls for help.
We're also kind of curious if Lola will end up getting her own transformation mid-season. There's already been a Cure Mermaid in Go! Princess PreCure, but this would be a much more literal take. We'll have to wait and see… but it would be cool to have her join the fight to protect her home!
Time for a new ending theme dance!
Ever since Fresh PreCure (possibly three seasons prior if you count "Ganbalance de Dance" in its many forms), the magical girl franchise has had its own dance to go along with the ending theme. They've become so popular, we can assume there's a new one just around the corner. Even better, we're hoping the summery beach theme means we're going to have something extra upbeat!
The theme music is likely to roll out fairly quickly, along with instructional videos for the dance. Whatever it turns out to be, we're ready and stretching.
The Re:ZERO Connection
The PreCure franchise pulls from a wide array of creators to make their series shine. Everyone from chiptune composers to Dragon Ball directors have had a hand in making the show what it is. For this upcoming season, the show is bringing in series composition writer Masahiro Yokotani — notable for his work on Re:ZERO -Starting Life in Another World-. Yokotani has also notably worked on Rascal Does Not Dream of Bunny Girl Senpai and Free! Iwatobi Swim Club.
We can't wait to see what kind of story comes to life from Yokotani's pen. Though we can probably assume it's going to be a lot more lighthearted than some of his other works.
Sunshine for a Gloomy Time
More than anything, we're excited about the show for what it is. Tropical-Rouge! PreCure promises to be bright and sunny, themed to ocean scenery and the key phrase "Let's do what's most important right now!" That promise of enthusiasm and bright, shiny days to come is enough in and of itself to hype us up for the upcoming season.
After the year we've had, we can use whatever optimism and heroics anime has to offer. This season is already looking especially upbeat, even by PreCure standards (which is saying something!). We can't wait to bask in the summer vibes of this cool new magical girl series!
What are you looking forward to most about the next season of PreCure?
---
Otaku USA may earn a small commission on purchases made through links on this article.