Healin' Good Pretty Cure [Anime Review]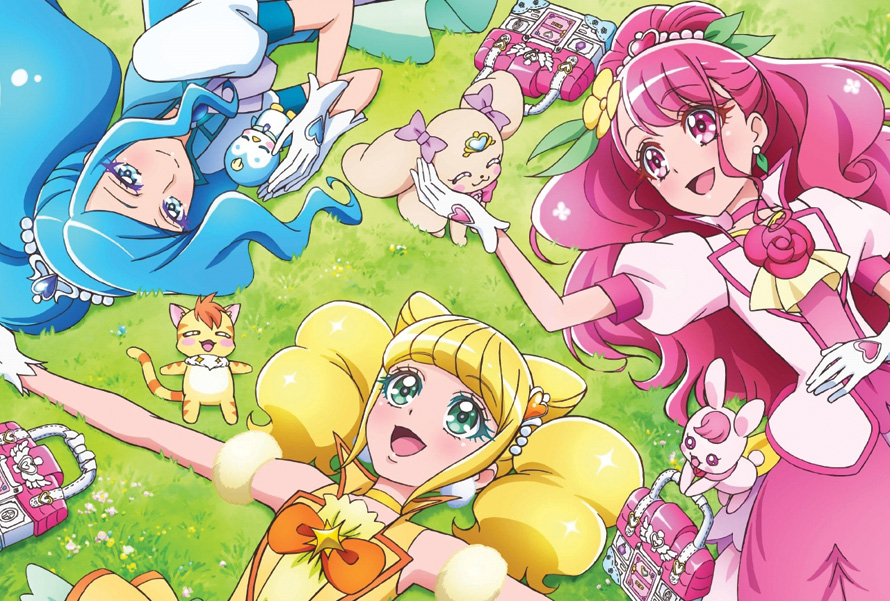 A magical-girl extravaganza
The Pretty Cure franchise is rife with hit after hit when it comes to adorable, heartwarming, and flashy magical girl characters. The seventeenth installment, Healin' Good Pretty Cure, is no exception, as it delivers exactly what fans have come to expect over the years: awesome transformations, cute animal mascots, and that sweet, sugary aftertaste that can only come from a good shoujo series. It's also, like many of the other PreCure shows, a great entry point for newbies looking to learn more about this mammoth magical-girl extravaganza.
Nodoko Hanadera is a 13-year-old girl who's just moved to the town of Sukoyaka. After dealing with a debilitating illness most of her life, she's finally in recovery. Her parents have moved to Sukoyaka in a bid to give her a fresh start so she can fully recover in a new area away from the hustle and bustle of the city. Little does she know that her big move also means big changes for her life that go far beyond getting back on her feet.
Meanwhile, an area known as the "Healing Garden" deep inside the Earth is ruled by the kind Teatine, who leaves her daughter Rate in the care of three other Healing Animals named Rabirin, Pegitan, and Nyatoran. They're on a search for individuals whose hearts resonate with their paws in an effort to partner up to keep evil creatures known as the Byogen from poisoning Earth itself.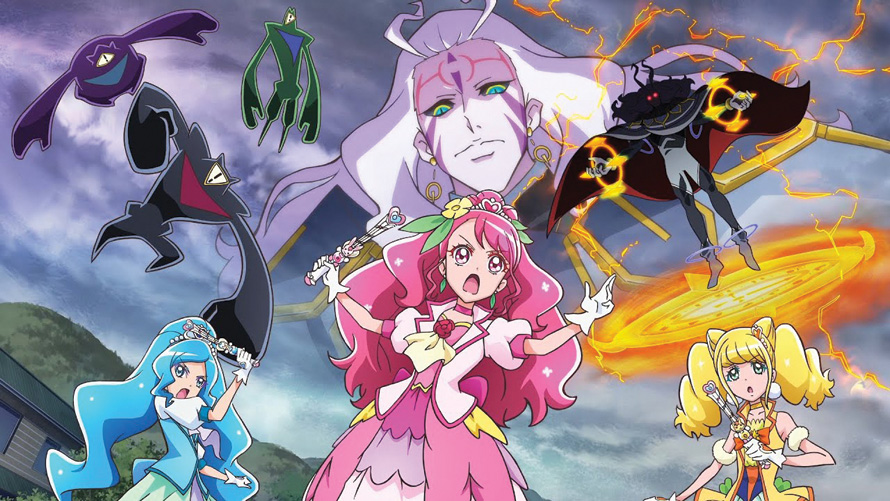 Nodoka, as fate would have it, runs into the Healing Animals during a particularly awful attack by the Byogens. Rabirin's paws resonate with Nodoka, whose frail condition doesn't have any bearing on whether she desires to, or is able to, help others. As a result, Nodoka becomes the legendary Pretty Cure, Cure Grace. She's endowed with the special powers of the PreCures to fight off the Byogens and protect all life on Earth.
Of course, she won't do it alone. Nodoka is Cure Grace, and as such she represents flowers. She's soon joined by Cure Fontaine, Cure Sparkle, and Cure Earth, all with their own fairy partner and special powers. Cure Fontaine, for example, is the Pretty Cure of Water, Cure Sparkle is the Pretty Cure of Light, and Cure Earth is the Pretty Cure of the Wind.
As you'd expect, each Pretty Cure has their own lengthy transformation and attack sequences, which will no doubt resonate with anyone who's grown up with magical-girl series like Sailor Moon or Wedding Peach. These, for many, will be the primary reason to watch in the first place, as they're gorgeous, frenetic, and colorful.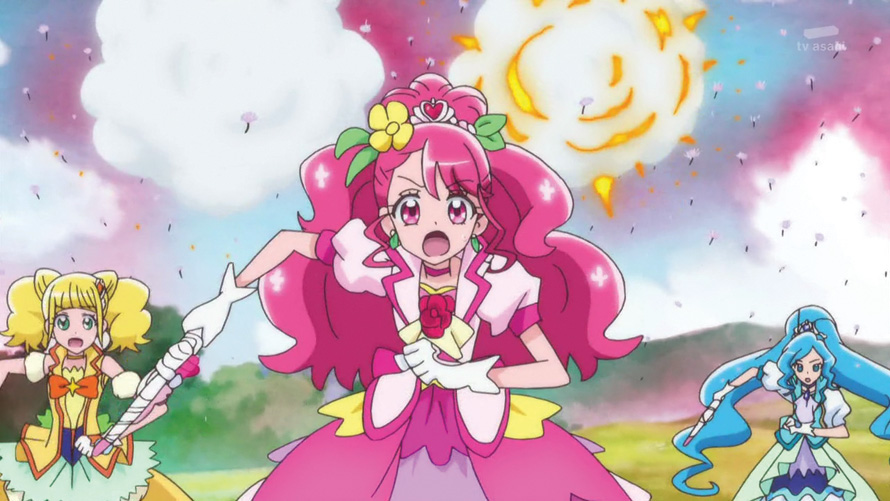 Each episode typically revolves around Nodoka and her newfound friends facing off against a different Byogen in the familiar "monster of the day" formula, though there's plenty of heartwarming lessons and parables to go around. Perhaps unsurprisingly, there's little by way of surprises in terms of plot devices or revelations, but with a show like this, you don't really need things like that. You just need earnest themes, fun characters, and a little bit of magic.
Healin' Good Pretty Cure is simultaneously empowering and exciting comfort food that anyone who's ever enjoyed a Pretty Cure series—or magical-girl show—will enjoy. Just don't be surprised if you end up watching all 16 other Pretty Cures after you finish this particular journey, too.
studio/company: Toei Animation
available: Now
rating: G