Monster's Naoki Urasawa Celebrated In Career-Spanning Exhibition
I was having a conversation with a young Japanese friend of mine the other day when we hit on the works of manga artist Naoki Urasawa. My friend's face immediately lit up, and we spent the next hour or so talking about our favorite Urasawa moments.
It was a testament to just how much Naoki Urasawa, author of Master Keaton, 20th Century Boys, Monster, Pluto and more, means to so many manga fans both in Japan and abroad. The winner of such awards as the Tezuka Osamu Cultural Prize, the Kodansha Manga Award and the Eisner, Urasawa has been a constant presence on the manga scene since Yawara! debuted in 1986.
Urasawa's 30-year career in manga (and music!) is currently the subject of an exhibition at the Setagaya Literary Museum in Tokyo, and as a huge fan, you can bet I wasn't about to miss it.
The exhibition spanned two floors. In the lobby of the museum, life-size cutouts of characters from Urasawa manga loomed over a huge amount of Urasawa merchandise, including copies of virtually all his books, as well as posters, postcards, pins and T-shirts.
But the main course was on the second floor, which was mainly comprised of pages and pages of Urasawa's designs, rough drafts and original pages of manga. It's always fascinating to look at these pages, which are the final step before the printed manga, and be able to see the artist's pen (and occasional white out) marks.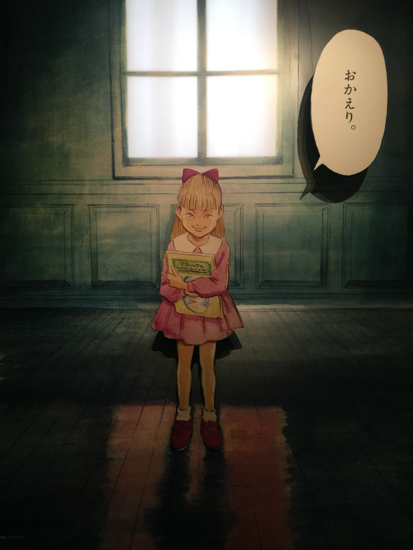 The exhibition also featured a few videos of Urasawa at work and at play, just in case you doubted the artist, who also happens to be a pretty decent musician, was one of the coolest guys on the planet (one of the Urasawa documentaries on display is actually on YouTube with subtitles, at least for the time being…).
Perhaps the most fascinating part of the exhibition were a pile of sketchbooks spanning Urasawa's school days. Starting from his earliest elementary school doodles, these books really showed the evolution of a great artist. The earlier sketches didn't look too much different than yours or mine – a nice reminder that a certain amount of talent is in-born, constant practice counts for a lot too.
Wait, can I have one more favorite part? One corner of the gallery was devoted to one-off illustrations unrelated to Urasawa's manga and showed a side of him I'd never really seen before – posters for friend's live gigs, magazine covers, nudes, etc.
Something else I hadn't realized about Urasawa: a timeline in the gallery pointed out that for most of his career, he's had two series running simultaneously. This took its inevitable toll while Urasawa was simultaneously writing 20th Century Boys and Monster, causing Urasawa to be briefly hospitalized for exhaustion. He was back at the two-series game by 2003, though, with Pluto and 20th Century Boys running at the same time.
No wonder the exhibition is titled "Draw Like Crazy."
Urasawa Naoki-ten: Kaite Kaite Kakimakuru ("Naoki Urasawa Exhibition: Draw Like Crazy") runs until March 31 at the Setagaya Literary Museum (closed Mondays). For more information click here (Japanese).
Matt Schley is Otaku USA's man in Japan and e-News editor. His favorite Urasawa manga, by the way, is 20th Century Boys. Send him a tweet.