Mamoru Hosoda's BELLE Is a Feast For the Eyes and Ears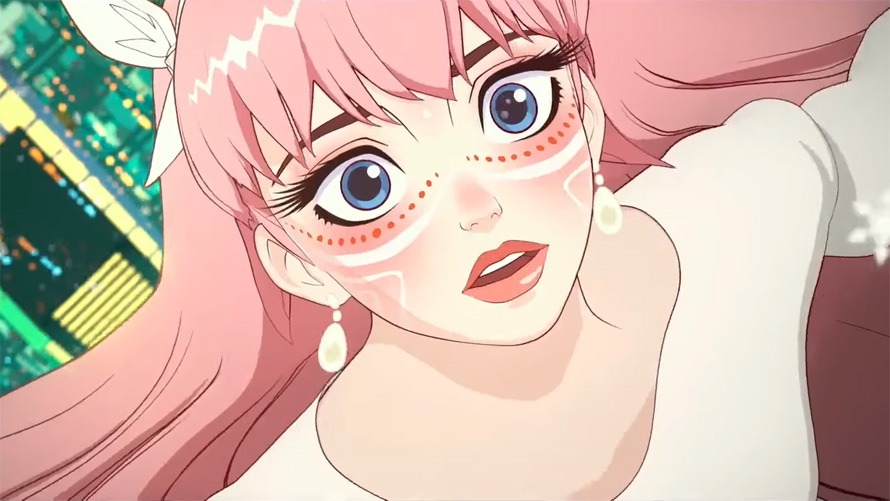 BELLE takes inspiration from the fairy tale Beauty and the Beast, but it's put into the modern world. Teenage Suzu has been struggling emotionally since a tragedy in her early childhood, but when she becomes "Bell" on the virtual platform U, things turn around for her.
As Bell, she can sing beautifully. And while some people in the virtual world attack her (which, like many things, leads her to hyperventilating), many others fall in love with her singing and her avatar. Some even say she shouldn't be Bell, but "Belle," for the French word for "beautiful."
The virtual world of U is not shown as social media on the computer, but an actual reality you can go into. Everything goes here, which is why Bell/Suzu can sing while standing on a flying humpback whale. An avatar shaped as the Beast appears, but instead of being frightened or angered, Suzu feels curious and a need to help. Here's where we get into the Beauty and the Beast territory, though this is no romance. Instead, it's two people in virtual disguises who feel so much pain, but who may be able to help each other.
Suzu is a sympathetic and winning character, and it's nice how it doesn't show her as perfect, or as someone whose life all comes together when she's Bell. She still has struggles, and despite all the virtual worldbuilding and avatars, this movie is ultimately about the universal qualities of being human, and it's expressed through music.
Indeed, the best parts of BELLE are the music and the visuals. The songs can range from upbeat to emotional, and Suzu's song in U toward the end of the movie is especially powerful and poignant, and it's perfectly backed up by the art. The animation is nothing short of stunning. Not only is it masterfully creative, like the scenery and creatures of U, but it's also bright, brilliant and iridescent.
BELLE is being released in American theaters this Friday (with select IMAX previews already going on), available both in the Japanese and English versions. Either way, it will be a feast for the eyes and the ears.
____