Lupin the IIIrd: Daisuke Jigen's Gravestone Review
Daisuke Jigen is dead.
If you believe that, Takeshi Koike has a Fiat 500 to sell you. He's the director of Daisuke Jigen's Gravestone, the new Lupin special out in Tokyo this week.
This isn't the first run-in Koike, the director of Redline, has had with Lupin: he was character designer and animation director on 2012's The Woman Called Fujiko Mine, the first Lupin TV series in almost 30 years.
Though Lupin has never really gone away (they've churned out the annual TV special like clockwork since 1989), the last few years have seen a kind of Lupin resurgence with Fujiko Mine, Lupin vs. Detective Conan, the first theatrical Lupin movie since 1996, the soon-to-be-released live-action film, and Gravestone.
I'm not sure what to call Gravestone: it was released in a single theater in Tokyo and will be released on video later this year. Not quite a movie, it runs about 50 minutes and is broken into two episodes. It's apparently also not this year's TV special, but an unrelated spinoff of the Fujiko Mine TV series.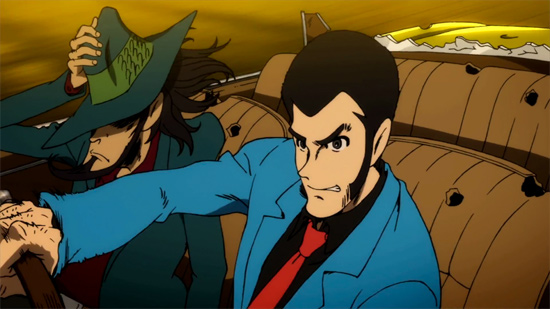 The main link between that series and Gravestone is Koike, who here handled animation direction and character design in addition to replacing Sayo Yamamoto (Michiko to Hatchin) in the director's seat. Yuuya Takahashi (Tiger and Bunny) took over from Mari Okada as screenwriter, and James Shimoji, who worked with Koike on Redline, composed the tunes.
It's a veritable anime dream team, so it's a bummer to report that when all's said and done, Daisuke Jigen's Gravestone feels, well, slight.
Gravestone gives us Lupin and Jigen where they left off at the end of Fujiko Mine: basically partnered up, but not yet best buddies. Jigen's just come off a bodyguard assignment where he woman he was protecting, the queen of the fictional West Doroa, was assassinated by Yael Okuzaki, an infamous sniper who creates graves for his victims before he kills them.
Turns out, there's a grave for Jigen, which can only mean he's Okuzaki's next target.
Gravestone tells a competent Lupin tale with more flair than the average Lupin TV special, as you'd expect from Koike, with a thunderous car chase, a couple good shootouts, and a seriously weird live performance courtesy Fujiko.
But Gravestone ultimately feels like it's simply going through the motions. One of the problems is the underlying premise: you know from the outset no one's going to actually kill off the legendary Jigen, so there's very little going on dramatically. The whole package – story, animation and designs – also feels a bit restrained compared to the psychedelic madness that was Fujiko Mine. And the finale, where all is revealed, is unlikely to impress anyone who's seen more than a couple of heist films.
Don't get me wrong: if there's any one director who gets my vote as the person to carry the Lupin franchise forward, it's probably Koike, and there's a post-credits scene that hints this isn't the last we've seen of this particular spinoff series. But Gravestone, unfortunately, doesn't quite hit the highs of the best episodes of Fujiko Mine or Lupin's other great capers.
Update 9/8/14: Jigen's Gravestone is not the only Lupin film to be released this year… read our review of the new Lupin III live-action film!