[Interview] Secret of Mana Gets Therapeutic With Prescription For Sleep: Lullabies of Mana
Game music is a powerful, multifaceted thing, capable of not just providing background accompaniment to our favorite games, but pushing us forward in our daily lives, and yes, even occasionally lulling us to sleep.
Former Destructoid Music Editor and Scarlet Moon Productions founder Jayson Napolitano knows this firsthand, and he wants to bring the soothing powers of our favorite video game tunes to the world with the Game Music Lullabies series.
We had the chance to speak to Jayson about the recently-released Prescription for Sleep: Lullabies of Mana album, which puts a relaxing, therapeutic spin to Hiroki Kikuta's classic Secret of Mana soundtrack.
Otaku USA: For those who may not be familiar with the Game Music Lullabies series, can you offer a brief explanation of the concept?

Jayson Napolitano: Game Music Lullabies takes game music tracks that many know and love and transforms them into soothing lullabies to sleep and relax to. This is done entirely by GENTLE LOVE, a jazz duo comprised of saxophonist Norihiko Hibino (who you may know as the composer of "Snake Eater" from Metal Gear Solid III) and pianist AYAKI (featured on Etrian Odyssey and PersonaQ), who are both top-notch jazz musicians.
OUSA: What led to you team up with Nirohiko Hibino and AYAKI?

Napolitano: I've known Norihiko Hibino for many years, both when I was writing about game music in a journalistic capacity, and later as a producer. Several years ago he started on a personal journey to explore the therapeutic applications of music, and began performing soulful music with friend and piano player AYAKI. The two have performed all over Japan at charity events in the wake of the earthquake and tsunami in 2011, and as a part of Hibino-san's well-being and spiritual care music event, Music in Heaven, which is held all throughout Japan.
Regarding what inspired the series, I had written a top ten article on Destructoid listing my top ten game music tracks to sleep to. The response I got to the sleep article was pretty astounding, so when I left Destructoid and started my own production company, I was thinking of interesting album concepts, and recalled the article.
GENTLE LOVE was an obvious choice, and Hibino-san was greatly interested in the concept as a bridge between his work in games and in therapeutic music. I actually went back to that Destructoid article and picked a few of the tracks that people suggested, including "Aquatic Ambiance" from Donkey Kong Country. So I'm always up for hearing people's recommendations!
OUSA: How has reception to the series been so far?

Napolitano: The response has been overwhelmingly positive. We've been on nearly every major gaming website, and Kotaku called us "The Kenny G of Game Music." I suppose that's a compliment… I actually like Kenny G! We've even been nominated for awards and been included in some editor's choice lists.
Honestly, from an album sales standpoint, we'd like to be selling more units. Music is an incredibly tough market, and it's getting harder and harder with each passing day. It's great that we're working with LOUDR.FM, who give us the ability to bundle all of the series together at a discount.
At the end of the day, this series isn't about accolades or financial gains. As long as we're breaking even and people are enjoying the music, we look forward to pushing on.
OUSA: What can fans of the original source material expect from the arrangements? Is there another album with a similar concept (the first thing that came to mind when I read the initial description were the Falcom Preprimer albums from the early 90s) that served as inspiration on the initial concept for the series?

Napolitano: I can't say we were really inspired by anything that had been done before, although I love the Preprimer albums as well. I simply put absolute creative control in Hibino-san's hands. GENTLE LOVE already had an established sound, so I wanted to give them the freedom to do their thing. I provide some notes for them to consider, but as trained jazz musicians (Hibino-san trained at Berklee), they know how to best proceed.
I'm a huge game music fan, and I hand-pick these songs. So listeners can expect that we're going to treat the source material right. We typically start strong with the recognizable melodies that fans know and love, improvise on those themes for a time, then circle back around to the main melody. Each of the albums is really a product of the day and time that they were recorded. They each have their own vibe. And if we were to re-record them, they'd be completely different. That's why I hope someday that GENTLE LOVE performs these arrangements live in front of an audience at, say, PAX or MAGFest.
OUSA: How have you decided what songs to arrange for previous albums on the soundtrack? What made you decide to focus on a single soundtrack for Lullabies of Mana?

Napolitano: I will tell you outright that the track selections are entirely self-serving. This is a lot of my personal favorite game music, so there're lots of JRPGs and Nintendo titles represented. I also try to take popular games and feature lesser-known themes that I personally love in order to turn others on to them as well.
For our first volume, I picked tracks that I thought were already conducive to sleep in their original form and simply had GENTLE LOVE bring them to life with a live performance. I also wanted to throw a curve ball in there, so that's where Demon's Souls came from. There was even an article somewhere that said, "Demon's Souls turned into a lullaby? Who would have thought?"
I did much of the same with Volume II, but wanted to challenge GENTLE LOVE a bit. I threw in "The Moon" from DuckTales, a super upbeat NES-era track, and told them, "people are really sensitive about people messing with this one too much, so beware." They performed admirably, and in the album commentary, Hibino-san noted that he was surprised that a Japanese composer wrote the theme, given how bold and bubbly it was.
When it came to a third album, I wanted to try something different. I was already thinking of tracks to include for another compilation, and "Phantom And… A Rose…" from Secret of Mana was high on my list. It struck me there are so many great songs from Secret of Mana, and the themes of the game (mother earth, healing, nature) were so aligned with Hibino-san's journey into therapeutic music that it just made sense. I knew that I was taking a niche (game music) and making it even more niche (by focusing on a JRPG), but I believed strongly in the idea. And it was fun having GENTLE LOVE record an original song based on the Secret of Mana world, which you can hear at the end of the album ("Memories of Mana").
OUSA: What kind of planning did the album go through before entering production? I heard the intent was the retell the story of the game via the album – how did you decide how to go about doing this?

Jayson Napolitano: It was very difficult deciding on which tracks to include. There were themes that I loved and there were key themes from the game that I thought needed to be included even though they wouldn't have been on my personal favorite list. I ended up striking a balance. It was very difficult picking which tracks to include. That's why we ended up with 12 tracks on this one instead of the ten featured on Volume I and Volume II.
But yes, the tracks on Lullabies of Mana appear in the same sequential order as found on the original soundtrack. We touch all the bases: the opening theme, town theme, dungeon theme, victory, final dungeon, ending, etc., I really wanted to present a diverse selection of tracks that people might have not expected. "Leave Time For Love" (the final dungeon theme), for example, is one that I don't think people would have expected as a lullaby. Maybe we should have gone all-in and done the boss theme.
OUSA: Was Hiroki Kikuta (original Secret of Mana composer) involved at all with the creation of the album?

Napolitano: Kikuta-san has a special thanks on the album, but didn't have any direct involvement with its creation. I did ask him for his input on the track selection when I was having a particularly difficult time. Beyond that, he heard the final result, and was impressed with the sensitivity expressed in the arrangements.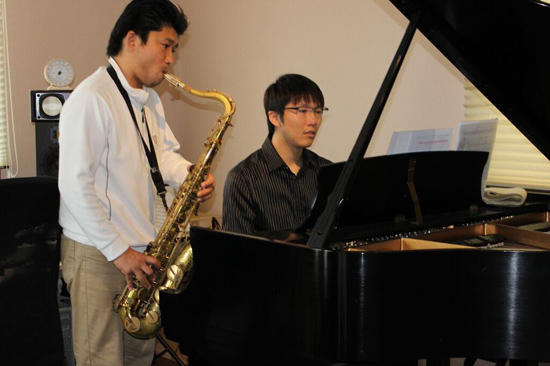 OUSA: Have you encountered any challenges during production when trying to fit the source material to the concept?

Napolitano: I probably shouldn't be telling anyone this. On Volume II, I had wanted another curveball. It was supposed to be "Lorenzo's Soil" from Earthworm Jim. Hibino-san has known the composer of that music, Tommy Tallarico, for many years, so I thought it would be fun to do. But Hibino-san and AYAKI really had a difficult time with it.
Otherwise, this has been incredibly smooth. People are shocked to hear our production process: I pick out songs, throw them in a folder, send them to Hibino-san with some notes, he charts the melodies out, gets into his studio, and they record it all in a single day. Sometimes it's interesting to see what parts that they decide to focus on, but I've yet to be disappointed.
The next installment, if we're able to do another one, will take this concept of challenging them even further. I don't want to give it away, but we're going to look into some music that nobody would expect to be heard in lullaby form. I'm sure if you ask me this question next time, I'll have more war stories to tell!
Check out Lullabies of Mana and the other Game Music Lullabies albums at the official website.