Japanese Ambassador Performs Demon Slayer OP Ahead of Anime NYC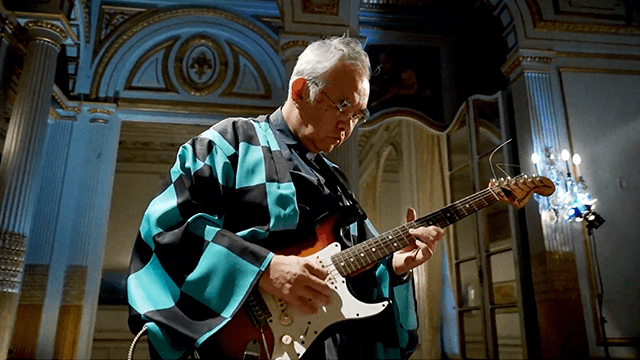 It turns out Kanji Yamanouchi isn't just the Ambassador and Consul General of Japan in New York – he's also a rocker with knowledge of otaku culture. Ahead of Anime NYC, which starts tomorrow, he released a video of himself playing musical instruments for Demon Slayer's opening theme song "Gurenge," originally performed by LiSA.
"Hello, I'm Kanji Yamanouchi, Ambassador and Counsel General of Japan here in New York," he says in the introduction of the video. "Japanese pop culture is an important bond and a great bridge between the American people and the Japanese people, especially for the people who love anime, manga and cosplay. After two long years, finally our community can come together with Anime NYC's return. So, in celebration and in my way of expressing deepest respect and gratitude to fellow New Yorkers, I'd love to play a song — maybe you've heard it before."
Ambassador Yamanouchi then plays both the piano and the guitar, with some cosplaying involved. A woman partially dressed as Nezuko is at the cajon.
He further explained in a press release, "Our Consulate believes Anime NYC is tremendously important to the cultural landscape of New York City. This form of 'Rock'N'Roll Diplomacy' is in tribute to the many fans and creators of anime, manga, and cosplay who have made Japanese pop culture an important bridge between Japan and the U.S."
He will also help out the convention by offering opening remarks tomorrow afternoon. On his website he explains, "In these rapidly changing times, and on levels ranging from statecraft to individual exchanges, I will be active in strengthening people-to-people relationships between the Japanese and American people in the area. It is my sincere hope that our endeavors will advance the strong, collaborative relationship between Japan and the U.S., and ensure a brighter, shared future as a whole."
Source: Crunchyroll
____
Danica Davidson is the author of the bestselling Manga Art for Beginners with artist Melanie Westin, and its sequel, Manga Art for Intermediates, with professional Japanese mangaka Rena Saiya. Check out her other comics and books at www.danicadavidson.com.