How Shonen Jump's EIC Aims to Expand the Otaku Base and Support Creators
Can't get enough Shonen Jump? Editor-in-Chief Andy Nakatani knows what it's like to be a manga fan, and he's always looking for ways to expand the otaku base and support the creators in Japan. VIZ is out with a new Shonen Jump app, we spoke with Nakatani about what's going on and how people can use the app.
Otaku USA: What is your role as Editor-in-Chief for Shonen Jump? How long have you been with the publication?
Andy Nakatani: Day to day, I oversee the Shonen Jump editors and am responsible for all things Shonen Jump. This also includes being responsible for the recent platform changes that made the three most recent Jump chapters free, with access to the digital vault of back chapters for members. I also am in contact with our counterparts in Japan.
Can you explain how the app works and some key features?
The three most recent chapters of Jump series like My Hero Academia and One Piece are available for free and are released on the same day they come out in Japan. And for a monthly fee of $1.99, users get access to the Shonen Jump digital vault of back chapters. This includes pretty much everything from the Shonen Jump imprint that we have released in English. The new platform is available on the web as well as apps for mobile devices. The apps have new features such as being able to choose whether you want to stream or download a chapter.
What is the workflow like for doing simultaneous publications? Readers would love to know what goes into producing the content with such tight time constraints.
We have to concentrate a bunch of work within the span of a few days, and that can get pretty intense. Basically the translation, lettering, editing and multiple rounds of proofing get done within two or three days. When things go well, we have a day or two to upload files and do another round of quality control. But we've come to get to know Murphy's Law really well, and things tend to happen. And then we have a mixed blessing with those short work weeks when we have national holidays. The new platform has necessitated some changes to our production process, and we've added seven series to our simultaneous lineup, so there have been some hiccups, but we're making improvements to the process as we go along. I'm just really grateful that we have a great team of people working to make this happen. They are really dedicated to the content, because we all love manga, but it's also so motivating for us to see such a positive response to the new platform.
What will making Weekly Shonen Jump free offer to readers? How does VIZ think it will expand the audience for manga?
People get to read the three latest chapters for free! And the content comes out on the same day it does in Japan! And since we're the official source, readers can feel assured in knowing that the manga creators are getting their due. We just want more people to read more manga, and our hope is that providing a free and official source will expand the audience for legitimate manga, and that in turn it will also expand the manga audience in general. And then maybe people will want to sign up for a membership to access the digital vault. Or maybe they will also want to buy a graphic novel or two, or three or more, whether that would be in a digital format or an actual physical format.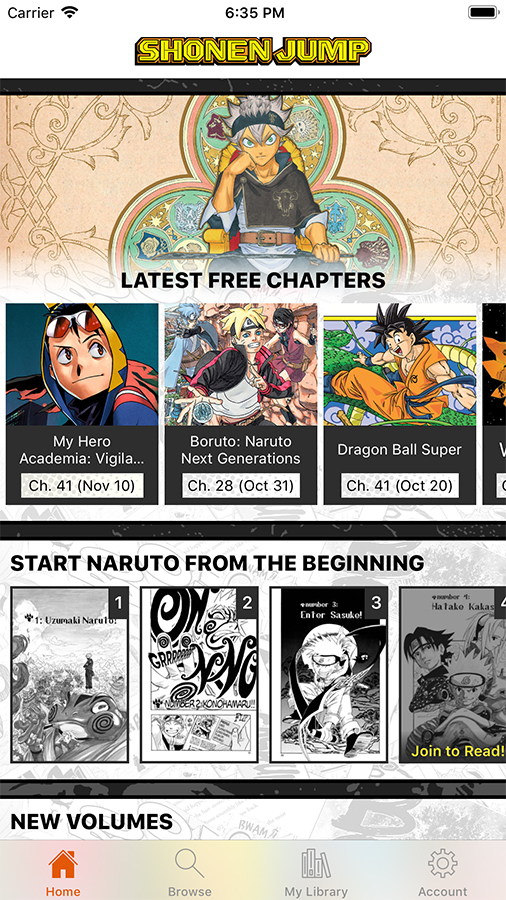 How many titles are contained in the Weekly Shonen Jump archive? How often is it updated?
Currently we have eighty-eight series in the digital vault. And there are quite a number of other series that are not in the vault that we're working on and hoping to get in as soon as we can. Since we offer the latest three chapters for free, the fourth most recent chapter will then become available in the vault. In addition, there are about four or five series that have a gap between what we have available in the vault and what the most recent chapter is. We're working to fill those gaps in, but please be patient with us.
What are some of the most popular titles in WSJ currently? Any personal faves?
One Piece, My Hero Academia, Dragon Ball Super and Boruto: Naruto Next Generations are amongst our most read series. As for favorites, with all these great series, it's really difficult to only pick a few. But of the relatively newer series, I'd say The Promised Neverland and Dr. Stone are a couple of standouts. Also, My Hero Academia fans should definitely check out its spinoff series My Hero Academia: Vigilantes. And then there's Demon Slayer: Kimetsu no Yaiba, Black Clover, We Never Learn, Food Wars, Jujutsu Kaisen, Act-age and… okay, yes, it's too difficult to pick favorites.
You can head to VIZ's website to check out the new Shonen Jump for yourself.
____
Danica Davidson, along with Japanese mangaka Rena Saiya, is the author of Manga Art for Intermediates. In addition to showing how to draw manga character types in detail, the book describes how professional Japanese manga creators work, including common techniques and what drawing utensils they use.