Get in the Ring with G1 Climax Nights 6-8!
Previously: 
"People won't buy into wrestlers who want to have a long and healthy life." – Hiroshi Tanahashi
Words of wisdom? Perhaps not. But words all twenty G1 Climax competitors have clearly chosen to live by, as seen in nights six, seven, and eight.
NIGHT SIX (B BLOCK)
Michael Elgin defeats Satoshi Kojima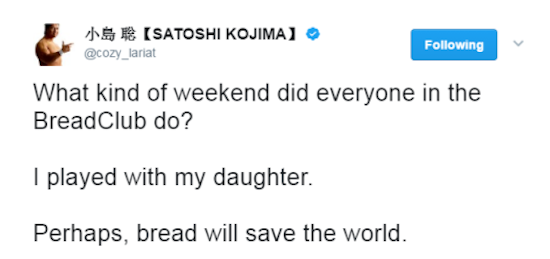 Kojima is the founder of The Bread Club, and "Big" Mike looks to have put away a few loaves in his lifetime. So obviously they declined to partake in any savagery, and instead chatted over a baguette or two, right? Wrong. This is the G1 Climax, and the two points awarded in victory are far more delicious than any bread.
I can't say for sure, but this match may have broken the record for most powerbombs used — I'll have to check my files. "Big" Mike took the win with — you guessed it — a powerbomb off the second rope, followed by yet another powerbomb. In a touching moment, Elgin checked on Kojima before exiting the ring. Bread love prevailing in the end.
EVIL defeats Tama Tonga
It opened with behavior more befitting of a frat bro than the supposed King of Darkness, as EVIL shouted "let's go outside," and the two did exactly that. This led to Tonga pummeling EVIL in the crowd, before dragging the ref back into the ring, and threatening him with actual physical violence unless he started the twenty count. Another infraction gone unpunished, don't they realize this is a sport?
It ended in a flurry as the two attempted and reversed finishing move after finishing move, until Tonga went for the Gun Stun only for EVIL to counter with an STO to take the win.
Minoru Suzuki defeats Juice Robinson
Juice momentarily became my hero when he sent that meddling Desperado over the barricade, but this one mostly took place in whatever circle of hell it is that Suzuki calls home. Suzuki tortured Juice with submission holds before growing bored and putting him away with a Gotch pile-driver. 
Post-match Suzuki decked an unconscious Juice before scurrying out to attack a group of young boys, only to come to his senses after nearly murdering Desperado. The pressures of the G1 Climax have caused him to come fully undone. I'll be phoning the NJPW offices to express my concerns ASAP.
Kenny Omega defeats Toru Yano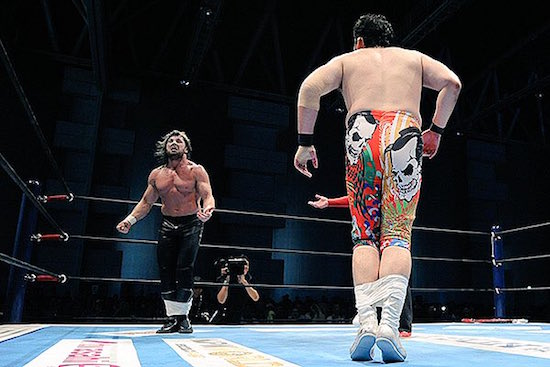 Yano started by offering Omega a copy of his newest DVD, but when Omega popped open the casing, he wound up taking a cloud of blinding powder to the face. Still preferable to watching one of Yano's DVDs. 
Yano then taped Omega's legs together, only to have the tables turned and find his bound as well. Omega then broke free of the tape, and hit Yano with a V-Trigger, sending him out of the ring and unable to climb back in before the ref finished the twenty count.
Despite the enjoyment I had in seeing Yano get his, it doesn't change the fact that this organization's regulating body has gotten much too lax for my taste.
Kazuchika Okada defeats SANADA
The main event saw the number one most handsome man in the company take on the third most handsome man (official rankings). From the outset it was clear that Okada had the better hair, but SANADA had considerably more definition in his physique — particularly the upper body. 
Both men were close to perfect on both a handsomeness and technical level. SANADA hyper-athletic; Okada smooth, with little to no wasted motion. SANADA has been groomed to be a main event attraction for when the time comes, but that time will have to wait, as the main stage belongs to Kazuchika Okada until he or fate decides otherwise. 
SANADA came close to stealing the spotlight with a near submission, thanks to the Skull End. But as he has against all other challengers to his throne, Okada gutted it out, and ended it with three consecutive Rainmakers for the pin.
NIGHT SEVEN (A BLOCK)
Tomohiro Ishii defeats YOSHI-HASHI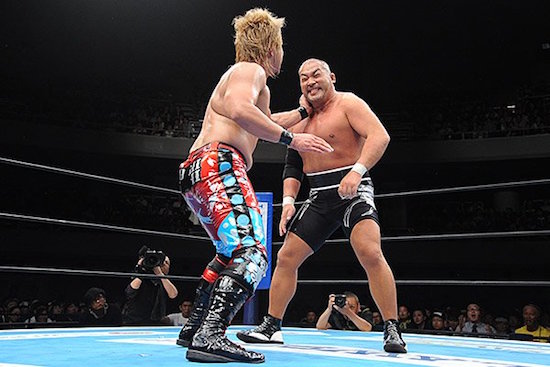 YOSHI-HASHI began the match with his first in a series of questionable tactics, as he cheap-shotted Ishii. He clearly did not come into this with a very sound game plan. Ishii looked mad, but he always looks mad, so YOSHI-HASHI wasn't too concerned, and thus continued with the bad ideas. 
YOSHI-HASHI then managed to seal Ishii up in a butterfly lock, attempting to put pressure on the neck. No, I also don't understand the reasoning behind putting a man who's built like Mr. Potato Head in a neck-lock. Ishii escaped, and YOSHI-HASHI decided a headbutt exchange was the next best thing.
I know he's called the Head Hunter and all, but come on. It's Ishii. YOSHI-HASHI was laid out flat, allowing Ishii to hoist him up for a brainbuster to secure the pin. I admire your moxie, YOSHI-HASHI, but try to think this stuff through next time.
Zack Sabre Jr defeats Bad Luck Fale
I was momentarily convinced the feed had switched over to some nature doc about a spider monkey crawling all over his rhino pal — strangely trying to secure a heelhook on the beast. But when the spider monkey rolled the rhino up for the three count, I realized I was still watching the G1, and that Sabre had just secured another two points. 
Togi Makabe defeats Kota Ibushi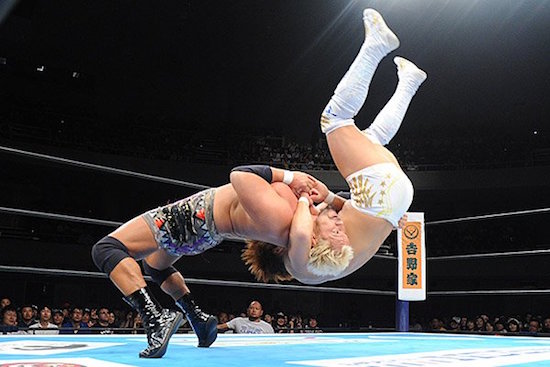 Tomoaki Honma was sitting ringside to support his former tag team partner Makabe, and I must admit I got a little misty eyed at the sight of him. Honma was nearly paralyzed earlier this year, but there he was, with his skin cancer-tempting tan, looking ready as ever to dive headfirst from the top rope.
Speaking of the top rope/things that could kill you, Ibushi — because he is insane — attempted to pile-drive Makabe off of it. Luckily for Makabe — but not for us because it would've been cool to see — he was able to fling Ibushi to the mat, and crush him with a King Kong knee drop for the pin. Honma approved.
Tetsuya Naito defeats Yuji Nagata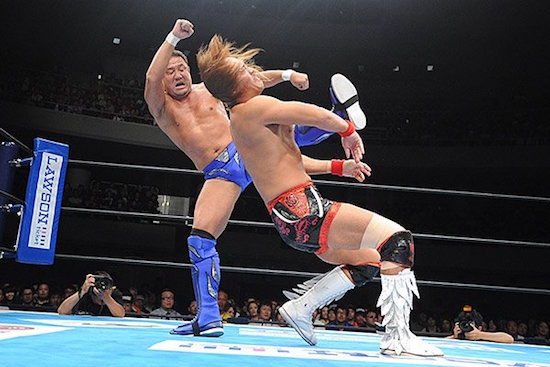 The most voyeuristic bout of the tournament thus far, this made me feel as if I were spying on some violent domestic drama. One between a troubled youth and his stern father. And just like almost all father/son arguments, it ended with dad getting hit with a Destino and going down for the three count. Making him 0-4 in his final G1 Climax. A most tragic tale of youth gone wild.
Hiroshi Tanahashi defeats Hirooki Goto
Goto, as always, looked the part of grim, feudal-era warrior. Tanahashi, as always, looked the part of total beefcake. Goto, like those before him, attacked the torn bicep of Tanahashi, forcing me to question whether this is a sport filled with nothing but cold, cruel men. Do heroes no longer exist in this world?
I had difficulty even watching the rest of the match, which ended when Tanahashi turned a GTR into a swinging neckbreaker, and decided to go with the flow to land two High Fly Flows for the win.
It was after the match that my faith in all things was restored, when a tearful Tanahashi was tossed an invisible guitar. One he thrashed as a rockin' riff magically filled the Sendai Sun Plaza. A rush of warmth poured over me. Cold and cruel? Maybe some, but not all, as this man had undoubtedly just proved. Thank you, Ace, thank you. 
NIGHT EIGHT (B BLOCK)
Tama Tonga defeats Juice Robinson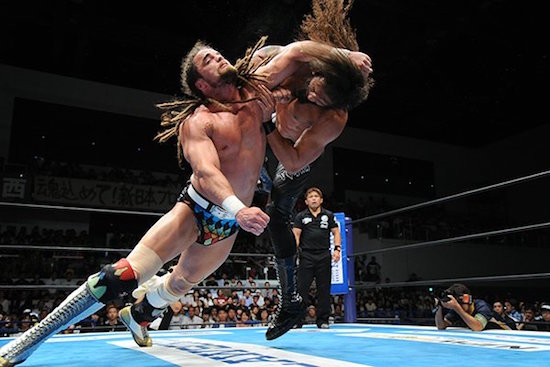 Juice limped to the ring, knees heavily taped, his body not yet accustomed to the G1 Climax — it's only his first one, after all. 
Tama put Juice in the tree of woe early on, and did a splash onto his tenderized knees. But while Juice never gave up in this match — and the crowd never gave up on him — Tama proved to be too much, too soon for the G1 young'un, hitting the Gun Stun for the pin.
SANADA defeats Toru Yano
Have I mentioned that SANADA is incredibly handsome? Probably not. Suffice to say, like Okada before him, he's much too good looking to be forced to share a ring with the likes of Yano. So I'm happy to report that SANADA had little patience for Yano's antics, stealing his dreaded roll of tape and leaving him tied up outside the ring for yet another count-out loss. 
One would hope that Yano learned his lesson this time, but I doubt it.
EVIL defeats Minoru Suzuki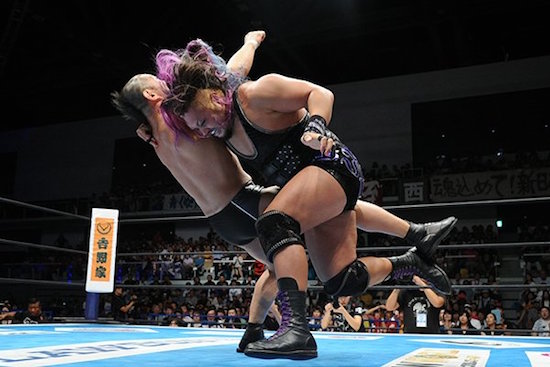 EVIL gazed into the face of Minoru Suzuki, and what he saw was the true face of evil. Suzuki, on the other hand, saw a lot of poorly applied mascara. They went at it like two rabid dogs right from the start, EVIL obviously feeling inferior in the evil department. 
EVIL did a throat-slash with his thumb, and Suzuki took said thumb and tried to tear it clean off. Next, the ref was knocked down, opening things up for Desperado to attack. But this time EVIL's L.I.J. stablemate BUSHI dashed in and handled him. But then in came fellow Suzuki acolyte Taichi, only to be followed by L.I.J.'s Hiromu Takahashi. What den of lunacy is this? Once again I ask: Do these men not realize this is a sport?
Even more shockingly, EVIL hit Suzuki with an STO for the upset win. But while EVIL may have triumphed over evil on this night, Suzuki remains the one, true King of Darkness.
Kazuchika Okada defeats Satoshi Kojima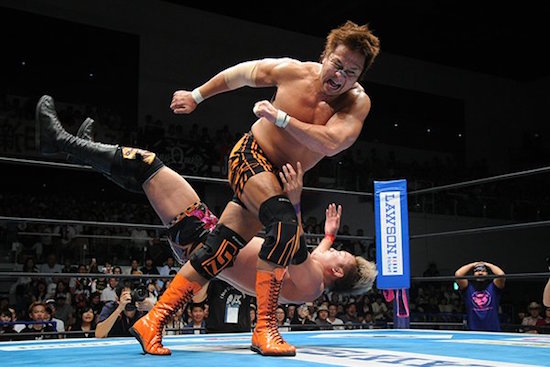 Okada kicked things off by leading the crowd in a pro-Kojima chant. What a gent. But then he clubbed Kojima in the back. Who is this person? Kojima floored Okada in return, then made his pecs do a little celebratory dance. Clearly a man after my own heart.
Unimpressed, Okada dropkicked Kojima to the outside, then gave him a draping DDT onto the thinly covered concrete. The crowd booed, and Okada mockingly covered his ears, before pulling Kojima's buddy Tenzan into the ring and egging him on. Tenzan, as you all know, retired from G1 competition last year, so this was just straight up bullying.
What has happened to my beautiful boy Okada?
Kojima launched a comeback, pinning Okada in the corner and delivering his trademark machine gun chops to the chest. Okada looked to be in so much pain, which in turn caused me pain, even though I know he deserved it. I'm so conflicted. 
It ended with an incredible battle of the lariats, which Okada got the better of with a Rainmaker for the win. Should I give up on Okada? No, I can't. I know he didn't mean to hurt me. He really isn't like that. He'll never do this kind of thing again. It was only this one time.
Michael Elgin defeats Kenny Omega
The G1 Climax as a house of horrors. Elgin landed a Burning Hammer to deliver Omega his first loss of the tournament, and probably early onset dementia. Though the previous match arguably had the true main event feel, this was a terrifying slow burn to head/neck trauma-fueled insanity. One brought to us by two wrestlers who have not only taken Tanahashi's words to heart, but have built an entire religion based around them. 
After eight nights of this life-shortening behavior, here's where the competitors stand:
A BLOCK
Tetsuya Naito – 6
Hiroshi Tanahashi – 6
Zack Sabre Jr. – 6
Tomohiro Ishii – 4
Kota Ibushi – 4
Hirooki Goto – 4
Togi Makabe – 4
Bad Luck Fale – 4
YOSHI-HASHI – 2
Yuji Nagata – 0
B BLOCK
Kazuchika Okada – 8
Kenny Omega – 6
EVIL – 6
Minoru Suzuki – 4
Michael Elgin – 4
Tama Tonga – 4
SANADA – 4
Juice Robinson – 2
Toru Yano – 2
Satoshi Kojima – 0