Fanime 2010 Cosplay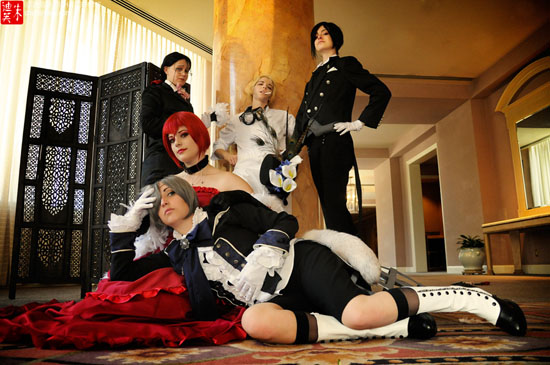 Fanime is a chill con. For a convention that's over 15,000 attendees, tons of guests, events, and thousands of Cosplayers, my overall vibe was chill. I've attended anime conventions and cosplay events all over the world, but this was my first time at a large con on the West Coast. My overall perception was that Fanime was well-run, fairly organized and exactly what their motto said: For Fans, by Fans.
Fanime is a four day anime convention on Memorial Day weekend, located in San Jose, California. It's held at the San Jose Convention center and the surrounding hotels. Attendees have come from all over the United States, and even internationally, since the first Fanime in 1994. The general meeting space and hub for the con is the fountains area in front of the con center. Here thousands of
Cosplayers
, photographers and anime fans convene every day for gatherings, photo opportunities, and general fun. If you park yourself in the shade for just a moment, you may see anything from your favorite anime character to an epic cosplay of Bumblebee.
In the last few years, cosplayers have become almost required for anime conventions, and Fanime does not disappoint. One of the first things I noticed was that the entrance to the lobby had a board of all cosplay gathering times and locations for each day. Going from 10 a.m. until dusk, and even past, there was a gathering every hour. The Hetalia gathering early Sunday afternoon was attended by over one hundred cosplayers. Also represented was Naruto, Bleach, Pokemon, Kuroshitsuji, and many more.
For every cosplayer there was a photographer to grab their photos. As an East Coast photographer, I know of the difference of styles between myself and those on the West Coast, but this was the first time I had seen it in action. They love their portable strobes, light reflectors, and assistants. I was quite interested in each photographer's setup and how they used a mix of natural and artificial light. It was a unique learning experience.
I was able to grab some time with West Coast cosplayers for photo shoots and was awed by how nice and fun everyone was that I met. There is always so much expected drama from cosplayers, but not one lady or gentleman came off as anything but extremely humble and considerate. I was also in awe of every costume I saw. There was a great mix of classic anime and new video games, and even original takes on famous characters. I took photos of a big Hetalia group that had created Steampunk versions of their characters. Each cosplayer had taken the time to create interesting additions to each costume, such as a pipe cane and a top hat with nuts and bolts.
Saturday night was the Masquerade, or Cosplay Spectacular as it's called at Fanime, which is always an experience. For press, Fanime offers two options for sitting. You can grab a spot backstage and photograph the Cosplayers as they come off stage, or you can grab a prime spot in front of the stage for the actual Masq. I arrived a little early and spent some time wandering around the location. Fanime holds their Masquerade at the theatre across the street from the con center. For the attendees, you either have a good view of the stage or the two screens to the right and left. The show started a little late, but had an amazing opening act of a live Taiko drum presentation. There was a range of good skits, including dance, dramatic and comedy. Overall, it was a good show.
This year, Fanime played host to the American preliminaries for the World Cosplay Summit. The WCS is an annual international cosplay event hosted by TV Aichi and held in Nagoya, Japan. For most of Sunday, more than fifteen competitors performed and had their costumes judged. A big congratulations and good luck to the USA team for 2010: Kathryn Griffin and Krystal Stoner!
Sunday night was the final cosplay event of the weekend: the Black & White Ball. I attended decked out in Victorian dress, and was not blown away. The lights were on for most of the night, which made the event feel like a high school prom. It was nice to see the mix of traditional formal attire with the cosplayers' unique take on things, however.
For my first Fanime, I had a great time. There are plenty of events to keep every attendee busy and happy, plus the thousands of cosplayers at every turn. For a photographer, you can never go wrong making it a regular stop. As a cosplayer, you are sure to come away with at least one photo of your costume. And as an East Coaster, I'm looking forward to next year's chill con.