EXCLUSIVE INTERVIEW: Monkey King Creator Katsuya Terada on His Philosophy on Art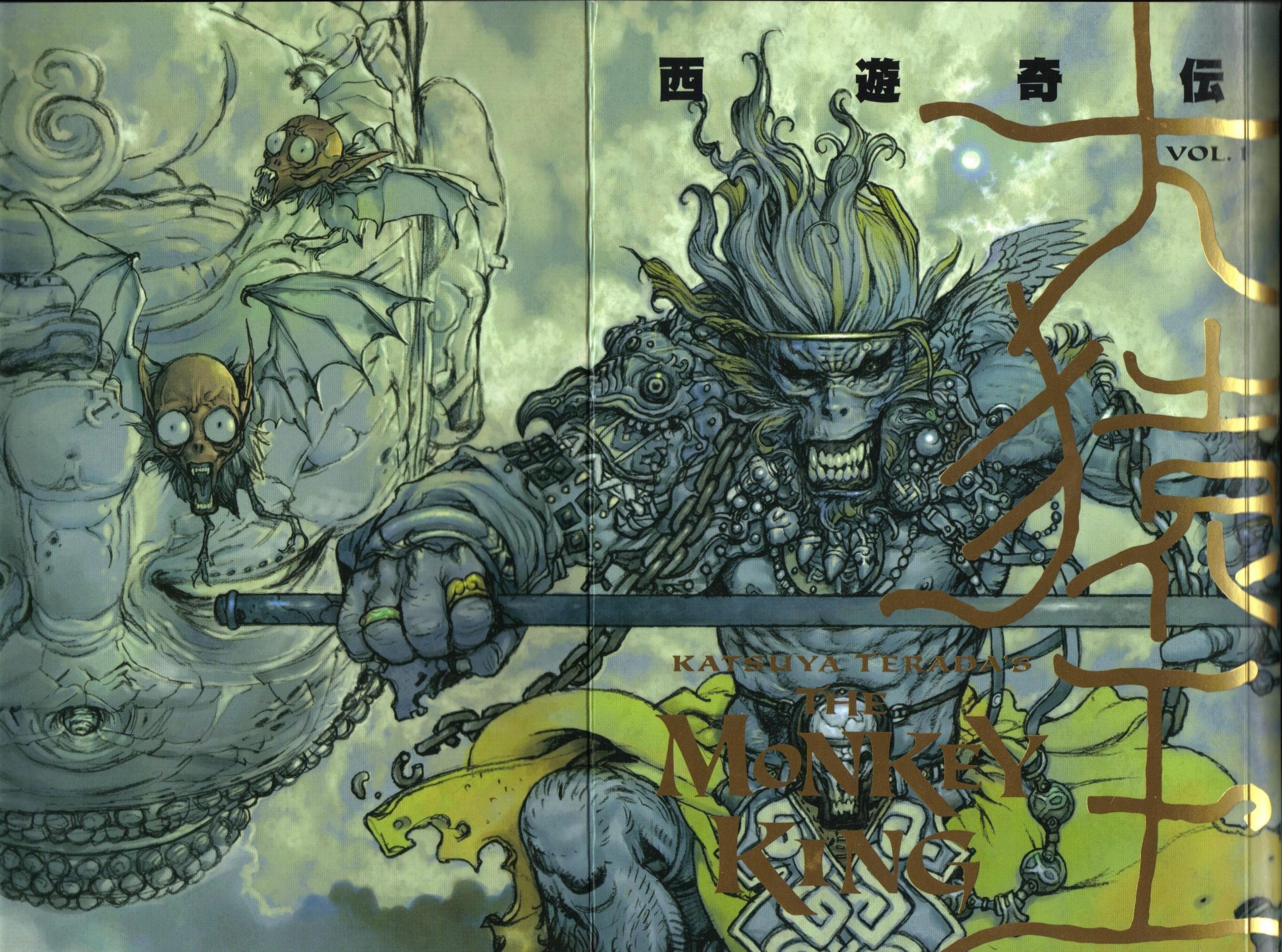 Manga creator Katsuya Terada created a variant cover for Geof Darrow's Shaolin Cowboy: Cruel to Be Kin issue 5, published by Dark Horse, which was revealed first at Otaku USA. On top of that, the very talented artist agreed to an interview with us about Shaolin Cowboy, his other work, and his philosophy on art.
How did you get involved with the Shaolin Cowboy: Cruel to Be Kin variant cover? How did you approach creating the cover?
I first became a big fan of Geof's work when I was still very young and saw his collaborations with Mœbius. Then we met in Japan a few years ago and have remained connected as friends ever since. I was honored when Geof offered me the opportunity to create a variant Shaolin Cowboy cover and said "YES" immediately on the spot.
Right away I knew I wanted to draw a tight closeup of his face. My first rough sketch was pretty much the same as the final version that got published, with no changes to the layout or anything. Geof's artwork emphasizes finely detailed linework on wide compositions, so I thought the close-up of the face would be the most effective way to immediately contrast my style from Geof's and showcase that the cover is a variant.
Dark Horse has also published some of your other work, such as The Monkey King manga and DHorse Deluxe Journal: Terada Cover Girls. What is it like working with them?
I have been working with Dark Horse Comics for over a decade now, and still remember how cozy I felt the first time I visited their headquarters in Portland, OR. I've had an amazing relationship with Dark Horse, and their projects are always some of my favorites.
You're very prolific in your art. Do you have any favorite projects you've worked on?
Personally, I do not feel I am so prolific in my art. I do appreciate that my audience feels that way, and continues to enjoy my work. But when I look at my artwork, I still find more regrets than satisfactions, more things to improve upon than be happy with. It's as if every previous work serves as a building block to make the next work better. If I had to pick, Monkey King will always be one of my favorite projects. I have worked in many different mediums, been published in books and featured in galleries, but Monkey King provided me with the clarity and strength to realize that I wanted to be a manga artist.
Can you tell us more about your philosophy on art?
I always consider myself as a manga artist first. What that means is my first priority when expressing my art is entertainment. When people see and experience my art I want the work to impart feelings of joy or even sorrow inside of the reader or viewer. I am always thinking about that, reexamining the way I have been expressing myself and reflecting on new ways to impact my audience.
What would you like Western fans to know about you?
I grew up inspired by amazing Japanese manga illustrators, as well as traditional Japanese artists like Hokusai, and also various other foreign artists like Mœbius. With so much inspiration from so many different times and places, I've come to see human expression as a wave, layering ripples from far away shores to the other side of the ocean and connecting the world. I would be honored for my work to be seen more internationally, to inspire the same wonder I felt when I was young, and open new paths to a more creative world by expanding my audience's creative mind.
Translator : Katsu Tanaka
____
Danica Davidson is the author of the bestselling Manga Art for Beginners with artist Melanie Westin, plus its sequel, Manga Art for Everyone, and the first-of-its-kind manga chalk book Chalk Art Manga, both illustrated by professional Japanese mangaka Rena Saiya. Check out her other comics and books at www.danicadavidson.com.