Drink Like an Otaku at the Akihabara Beer Fair
If there is perhaps one thing capable of transcending all of otaku culture, in all of its variegated niches and subniches, it's gotta be beer. Right? Let's roll with it, because there is a beer fair in Akihabara and it sounds like a ton of fun.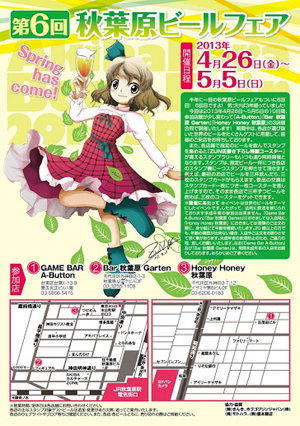 Running over the course of 10 days from April 26 to May 5, the 6th Akihabara Beer Fair will allow patrons at 3 different Akiba-centric boozeries to partake of selected beers from around the world, all while accumulating stamps good towards a coaster drawn by Touhou creator, otaku folk hero and beer aficionado ZUN.
The three establishments participating in the event are Game Bar A-Button, classy bar Akihabara Bar Garten, and maid bar Honey Honey Akihabara.
Drinking specific beers at each bar earns stamps. Collect stamps from all 3 bars to get yourself the ZUN coaster. Sorta like a train rally, but with beer. Oh, Akihabara.
The closest thing I've experienced to this in the US is the hotel drink specials at Nan Desu Kan, which offered imbibements with names like "Fruits Basket" for over-21 congoers.
Sources:
This story originally ran in the 4/2/13 issue of the Otaku USA e-News email newsletter. If you're not on the mailing list, then you're reading it late! Click here to join.