Case Closed: The Last Wizard of the Century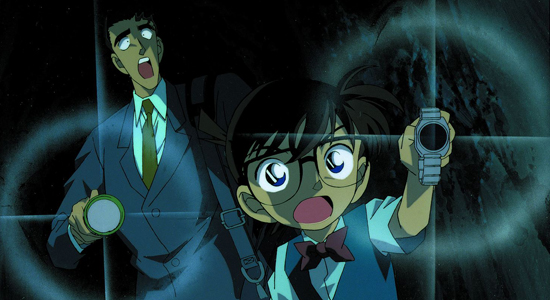 Conan Edogawa is up to his comically oversized ears in crime once more as the night skies light up with the presence of a new rival, the Kaito Kid. This white-clad thief—looking like Tuxedo Mask with a garish monocle—makes authorities look foolish as he zips in and out of high security areas with the finest of treasures in hand, and he now has his eyes set on a priceless Russian faberge egg. Needless to say, Conan isn't going to leave this one up to the usual set of clueless gumshoes, but catching this phantom thief may open up one hell of a criminal can of worms.
If you're new to the world of Case Closed, known as Meitantei Conan (Detective Conan) in Japan, there's really no bad place to start as far as I'm concerned. The Last Wizard of the Century (Meitantei Conan Seikimatsu no Majutsushi) debuted in 1999 as the series' third feature film. Like the films that precede and follow it, it showcases an original story not seen in Gosho Aoyama's manga, which has been in ongoing serialization since 1994, amazingly enough.
Like Conan's other stories, Last Wizard is heavy on rabble-rabble whodunnit noise; rooms filled with potential suspects gasping or guffawing at accusations depending on their relative level of innocence. It has similar qualities to your average procedural drama, though it tends to be more fun and fantastic than most mysteries thanks to Conan's charmingly ridiculous assortment of gadgets that act like his very own junior Batman utility belt arsenal.
The steady back and forth of red herrings and actually useful clues are presented in, if you haven't noticed, a very distinct visual style. I've always thought the look of Case Closed makes or breaks its potential attraction of new viewers, but I personally can't get enough of it. I was even once a doubter, chuckling at Aoyama's goofy art as translated on screen, but it catches on in a big way if you give it a chance. Both the series and the films kind of defy whatever time period they debuted in, holding a tight grip on an eternal and appropriate mid-90s aesthetic.
Director Kenji Kodama knows the formula well, and has worked on a handful of Conan features in addition to Last Wizard. He also worked as a director on City Hunter, from movies to OVAs to the series itself, so that should definitely serve as a potent tale of pedigree to some.
While the TV series doesn't have anything in particular holding it back or making it less accessible, the movies make good primers to Conan's world. You've got a very digestible mystery that's roughly the equivalent of some of the longer multi-parters in the series, and you know there's going to be at least some satisfying resolution to the events. Also, much like Marvel comics of old—70s Daredevil comes to mind, with Matt Murdock kicking off issues by pontificating over… his crippling yet empowering affliction… and his… occupation!—episodes and movies in the Case Closed series are all about reminding you how Conan got in this pint-sized mess in the first place.
So yes, you can basically play Russian Roulette with Case Closed stories and come out with some satisfying entertainment, and as such The Last Wizard of the Century comes recommended pretty easily. The only people I could see being turned off by it probably aren't into mysteries in the first place (or can't stomach the awesome art style), and if that applies to anyone reading then, well, case closed I guess.
Studio/Company: Funimation
Available: Now
Rating: TVPG
© Gosho Aoyama / Shogakukan • Yomiuri-TV • UNIVERSAL MUSIC • Sho-Pro • Toho • TMS