Interview: Sailor Moon's Tuxedo Mask Speaks!
It's now less than a day before VIZ's uncut Sailor Moon is released on DVD and Blu-ray. To whet your appetites (or, you know, make the wait all the more painful), I spoke with Tuxedo Mask's actor Robbie Daymond at Detroit's Youmacon convention.
While Daymond is fairly new to working in anime, he has a strong résumé in the animation world. "I've been doing voice over for about seven years in L.A., full-time a little bit less than that," he said. Then he got a special audition opportunity.
"The head of Studiopolis sent me the audition directly," he said about how he got cast in Sailor Moon. "It was a breakdown of everybody: it was Tuxedo Mask, and the three main bad guys. When I saw it, I thought, Ooh, Sailor Moon, I wonder what they're doing? I had no idea that it was a reboot. So I did an audition from my home — I do auditions every day — and since I hadn't done any anime, I tried to research a little bit. Then I got the call a month later. No call backs. From what I hear, the original creator had final approval of all the new dub voices."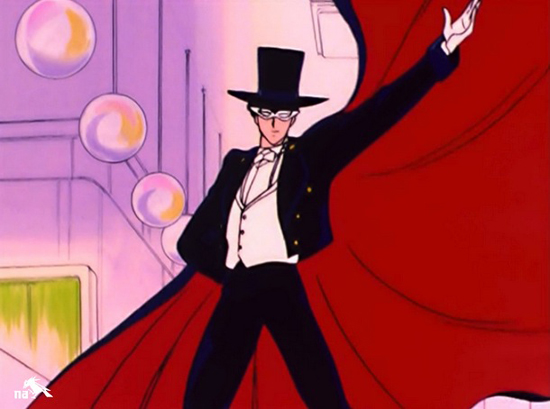 While he hadn't done any anime work, that didn't mean he wasn't already a fan of the medium. Asked if he'd watched Sailor Moon as a kid, he said, "I was a little too old to be watching it as a Saturday morning cartoon, but I got into anime in college. At the college dorms, watching DBZ and stuff. You know, Cell Saga was on at one in the morning. Then my buddy was like, 'Oh, you guys are watching anime? Do you know about Sailor Moon?' He had stuff and we watched a fair amount of it. I was a fan when I saw it, but I didn't grow up with it. I got to rediscover it and realize how special it was, with the strong female characters. It really holds up."
There are a number of differences between anime and the original English language animation he's been used to. "Dubbing is much more technically difficult for sure. You're matching flaps, you're trying to stay true to the original Japanese while conveying an emotion, a feeling, and putting your own spin on it. With traditional animation, you get to riff and have more freedom."
After officially being cast as Tuxedo Mask, he watched some of the old Japanese episodes as a way to help him approach the project. He only watched a very little bit of the English dub from the 90s.  "I didn't want to see what had been done before [with the English dub] because I knew we were trying to have a fresh take on it," he explained.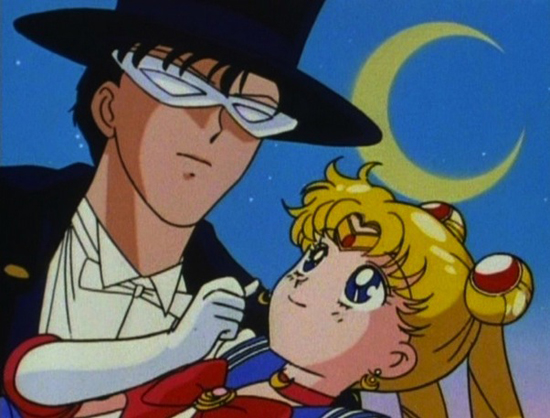 So how does he get into character for Tuxedo Mask?
"Well, I don't put a cape on or anything," he joked. "No, I'm just playing around. The fun thing about anime is that you are working from picture. So that definitely informs what you're doing in the moment a lot more. When you're working on a script and there's nothing to see, you have to use your imagination a lot. When you see what's happening right in front of you, there's not as much preparation. Once you find the voice, it lends to going in and doing it on the fly."
He's beginning to go to anime conventions and is really enjoying them. The most common question he gets asked is what he thinks of the original English dub. "I just kind of say, 'I don't know.' That's purposefully why I stayed away from it. I'm sure it's great in its own right, but the uncut part of it is what I hope people focus on with this new dub."
And, yes, if you're wondering, he's already on the radar of Tuxedo Mask fangirls. I know because I asked.
"Yeah, yeah, nothing too weird yet," he laughed. "A lot of gushing and shaking at the autograph lines. I think every other person, I hear, 'Tuxedo Mask was my first crush.' I think that's super cool. Yeah, there's a lot of that. But it's all positive and fun, and I think that's all that really matters.'"
Daymond has more anime projects coming up, but unfortunately he can't give many details until a later date. "I've got to guest star on a couple shows and I have a nice arc on an upcoming show,'" he said. "The bummer is I can't talk about it yet. I'm excited about stuff. I'm doing two new video games that are really big, sort of RPG video games that fit well within the anime community, but I just can't talk about it. If I tell you when I can tell you about it, I'll give away what the projects are. Things are coming out soon. I'm in a Final Fantasy game that's coming out, Type-0. There's a new anime called Patema Inverted, and that's got Cassandra Lee Morris, Patrick Seitz, Stephanie Sheh. It's a really beautiful anime feature."
While he couldn't say much about upcoming anime projects, he could talk about some of his other animation work.
"Nickelodeon has been great to me over the last few years," he said. "We have a Saturday morning cartoon that premiered this year called Breadwinners and it airs right in-between SpongeBob and Sanjay and Craig. It's a traditional, zany, wild, weird cartoon, very different from the anime world. We're recording our second season and it's been a pleasure working there. I have another show, Get Blake, that's going to air on Nick next year. I play the lead in both these shows. Get Blake is like a boy's action/adventure show. It's the same company that did Totally Spies. He's this 14-year-old fun, adventurous kid with a sidekick he runs around with. He grows up to be a future space ranger who saves the universe. So a bunch of alien squirrels travel back in time to try to kidnap him and stop him from fulfilling his destiny. It's cute. Their rocket ship is disguised as a tree. I'm hoping people like it — we'll see next year."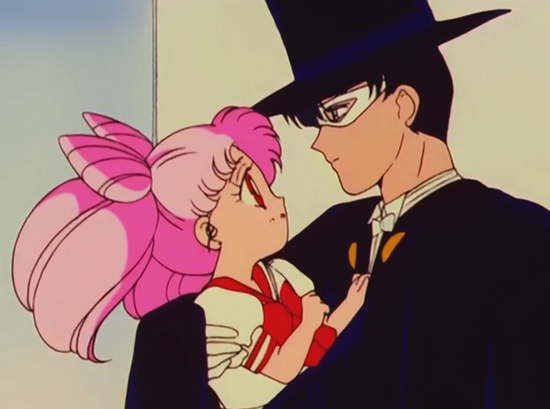 Still, talk always had to return to Sailor Moon.
"The fandom is really kind of unique for this show," he said. "There's a crazy mix of nostalgia, people who remember it growing up, and younger kids now who are experiencing it for the first time. I've met fans from four to forty. Everybody's been really positive so far. In the beginning, there was definitely some hesitance, since people had nostalgia with the original, but I think now that the new dub is coming out, everyone is realizing it can be both. You know, that existed at that time, and we're celebrating it and honoring it. Now we're trying to do it justice with the new uncut, original meant-to-be-seen version, where there's no cousins, no changing sex, no cutting out episodes. I believe a number of these episodes in the first season have never been seen before."
And he has a special message for fans: "Thank you to all the Moonies. You've been really supportive. There are a lot of voiceover actors who have done a lot of stuff over the years. So for someone who's new to this world to be doing con appearances based off one character, it makes you realize how beloved the series is."
© Naoko Takeuchi/PNP, Toei Animation