Miyazaki Receives Honorary Oscar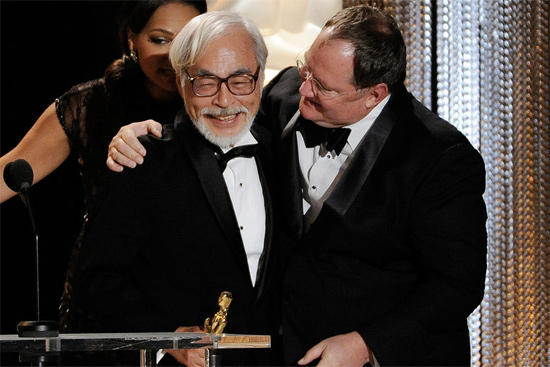 Miyazaki with Pixar chief John Lasseter at the ceremony
Legendary anime director Hayao Miyazaki received an honorary Oscar for his "years of contributions to the motion picture industry" at a ceremony on Sunday.
Receiving the award, Miyazaki said, "my wife told me I'm a very lucky man," according to the Japan Times.
To coincide with the honorary Oscar, Miyazaki was interviewed by Japanese film expert Mark Shilling for Variety, where he talked about a variety of subjects, including his current projects, the future of Ghibli and the industry overall.
On winning an honorary Oscar: "Somebody must have been pulling strings. Maybe [Pixar chief creative officer] John Lasseter."
On Hideaki Anno (Evangelion) becoming an anime industry leader: "I wish him the best of luck. It will be hard work though."
On making short films for the Ghibli Museum: "I will continue to make them."
On the state of Studio Ghibli: "I don't anymore. I don't want to get involved in that sort of thing."
On the state of the industry: "The kind of animation… made with paper and pencils is dying… There's nothing inherently wrong or right about a method, whether it be pencil drawings or 3D CG. Pencil drawings don't have to go away, but those who continue to use the medium lack talent. So sadly, it will fade away."
On retirement: "I intend to work until the day I die. I retired from full-length films but not from animation."
The entire interview is a fascinating read, so take a look.
Miyazaki needs no introduction for most anime fans. Starting his career at Toei Animation, Miyazaki worked on titles like Gulliver's Travels Beyond the Moon and Hols: Prince of the Sun, directed by Isao Takahata, with whom he would later found Studio Ghibli.
Miyazaki's Spirited Away won the Oscar for best animated film in 2003, but he did not attend the ceremony.
Miyazaki is the second Japanese citizen to win an honorary Oscar. The first went to director Akira Kurosawa in 1990.
Sources: Japan Times, Variety
---
Related Stories:

– Beat Takeshi: "I Hate Anime, Especially Miyazaki"
– Miyazaki News: Hayao Gets Oscar, Goro's Show Airs Soon
– Miyazaki Blames Otaku Animators for Anime Decline
– Hayao Miyazaki Shares Political Views In Interview
– Kingdom of Dreams and Madness: Studio Ghibli Documentary Review