Anime Gets a Mention in BBC "Sexless in Japan" Short
Reports about Japan's low birthrate, and its young people's seeming lack of interest in sex, is practically an genre unto itself. The latest entry in that genre is a short documentary by the BBC entitled "Sexless in Japan," which introduces the idea that hobbies like anime may be to blame.
The suggestion comes from comedian Ano Matsui, who tells reporter Rupert Wingfield-Hayes, "there are a lot of men like me who find women scary… we are afraid of being rejected, so we spend time doing hobbies like animation."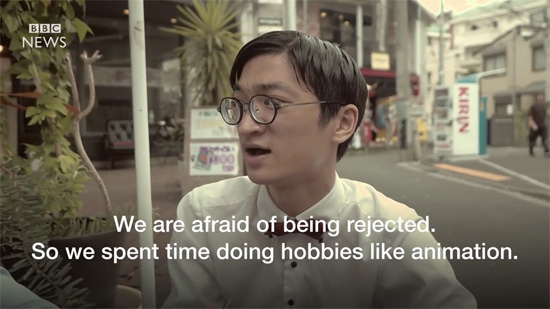 What reports like this about Japan often leave out, though, is that people in other developed countries like the UK and the US are also having less sex, and that the cause may include longer work hours, the recession of the late 2000s, and easy access to entertainment via the internet.
In short: yes, easy, always-on access to one's hobbies, including anime, may be partially to blame. But it's clear it's not strictly a Japanese issue, and certainly not one specifically linked to anime.
Source: Yaraon