Ajin: Demi-Human Part 1: Compel Review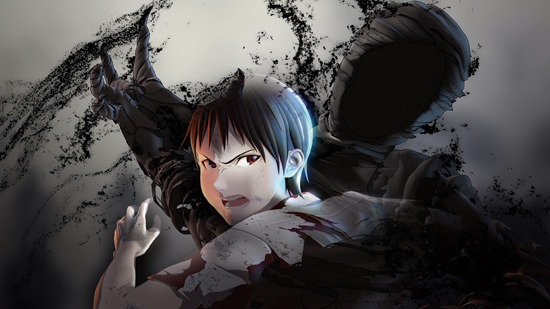 © Gamon Sakurai, KODANSHA/AJIN Production Committee. All Rights Reserved.
What does it mean to be human?
That's the big theme at the heart of Ajin: Demi-Human – Compel, the first in a trilogy of anime films out in Japan this November from Polygon Pictures (Knights of Sidonia).
Ajin is set in a modern-day world like our own with one key difference: the existence of Ajin, people who, when killed, simply come back to life. The first Ajin were discovered in Africa 17 years ago, and 46 have been discovered since – though there are potentially hundreds more, since Ajin themselves don't know they are Ajin until they die.
That prompts high school student Kei Nagai to ask his teacher, "wait, does that mean Ajin aren't human?"
© Gamon Sakurai, KODANSHA/AJIN Production Committee. All Rights Reserved.
Kei, the main character of Ajin, is a bit of a strange human himself. Obsessed with becoming a proper, upstanding member of society, Kei, despite his ambitions of becoming a doctor, seems to harbor little empathy toward fellow human beings. When their childhood dog dies, he tells his sister coldly, "that's just how it is."
Walking home from school one day with his eyes on the ground rather than on where he's going, Kei is suddenly hit and killed by a truck (let this be a lesson to you, cell phone starers!) and – you guessed it – discovers he is an unkillable Ajin. He quickly becomes the subject of a nationwide manhunt, involving bounty hunters, secret agencies and mysterious men in hats.
Ajin is based on Gamon Sakurai's hit manga of the same name which began serialization back in 2012 (it's available in the U.S. from Vertical and Crunchyroll). The films are directed by Hiroaki Ando, a CG animator who directed episodes of Knights of Sidonia and the "Gambo" segment of Short Peace.
© Gamon Sakurai, KODANSHA/AJIN Production Committee. All Rights Reserved.
That means this film is CG-animated too, and your mileage will vary depending on how much or little you care for the CG anime aesthetic. For what it's worth, it's clear Ando is one of the best in his field and knows what he's doing with the technology. While I still find the look a bit jarring, the animation definitely has its moments, especially the battles between the film's black ghosts.
Yes, as it turns out, Kei is not only an Ajin, he's a "variant" – a rare subset of Ajin that can summon avatars known as black ghosts to fight, spy, kill or otherwise do their bidding.
This turns Ajin into a morality play, as Kei has to decide just how to use his newfound powers – against the humans who have suddenly decided to hunt him like an animal, or to protect those very humans against a sect of revenge-bent, human-hating Ajin.
© Gamon Sakurai, KODANSHA/AJIN Production Committee. All Rights Reserved.
Along the way, for every human who wants to capture him for prize money or do experiments on him, Kei runs across a surprising number of people who want to help out of simple human empathy – empathy that initially confounds, then beings to affect, the cold-hearted young man. Ironically, it takes becoming a demi-human for Kei to start becoming human.
It is only a start, after all: there are two more films scheduled after this one, and a television series in January (it's unclear if that series will continue, or retell, the story in this film trilogy). Ajin isn't a perfect film – its morality play trappings are a bit on-the-nose, and for all its advances, I still prefer hand-drawn animation to CG.
But Ajin is fun. Like the best seinen series, it sets up the rules of the universe then plays with them in interesting ways, like when Kei realizes he can escape a high rooftop simply by jumping off – if he dies upon hitting the ground, after all, he'll simply be regenerated.
Macabre? Definitely. But being interested in death is, after all, only human.