20 Facts About Otakon 20
1) The very first Otakon in 1994 attracted around 300 anime fans. Otakon 2012's attendance number of 30,785 is nearly 88 times that.
2) Otakon's 2012 attendance makes it the 2nd largest American anime convention in the United States.
3) If you learned something at Otakon this year, it's no coincidence. Otakon is organized every year by Otakorp Inc., an educational non-profit. Otakon's mission isn't just to entertain, it's to educate the public about east Asian culture.
4) It took nearly 1,000 volunteers to put on Otakon 2013. In fact, this "for fans, by fans" company is comprised completely of volunteers. All money from memberships and fees goes back toward funding the next year's Otakon.
5) Otakon has four original founders, known as the Four Fathers: Todd Dissinger, Bill Johnston, David Asher, and Mitch Hagmaier. The founders first conceived the idea of Otakon during the drive home from 1993's Chibicon/I-CON back to Pennsylvania.
6) Otakon's first ever Japanese guest was Toshio Okada, in 1995. Nicknamed "The Otaking," Okada is best known as the former president of Gainax.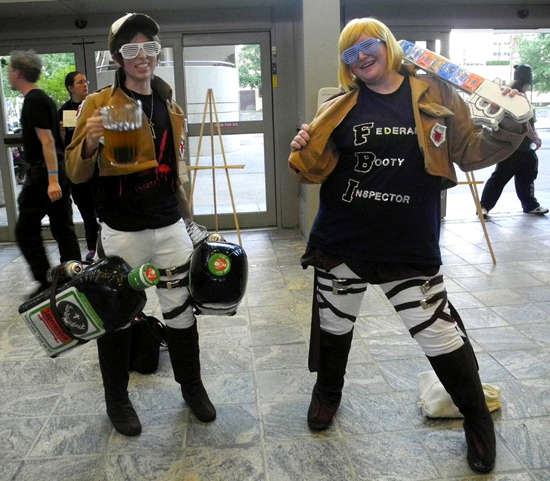 7) No matter how far you traveled to get to Otakon 20, somebody has come from farther away. Pre-registration records show visitors from Europe, Australia, South Africa, India, and the Middle East.
8) In 20 years, Otakon has had 16 convention chairs. Only one, "Cousin" Sue Monroe, was female. Another, Sean "Hellbunny" Chiochankitmun, has been a chair three times.
9) In 1995, Otakon held its first and last four-day convention. The convention ended $5,000 in the red, and they vowed to run future Otakons shorter and leaner.
10) Based on Baltimore, Maryland's total population numbers, Otakon 2012 temporarily increased the city's population by nearly 5 percent. Baltimore is the 24th largest city in America already, so that's really saying something!
11) Otakon has had two "fire alarm incidents." The first was in '99, the convention's first year at the Baltimore Convention Center, at 1:30 AM. The second was in '10 around 2 PM on the convention's second day. Both were marked by a speedy evacuation, and neither were ever conclusively linked to Otakon attendees.
12) Otakon Vegas, Otakon's first "satellite convention," has been years in the making. Though it will be held for the first time in 2014, Otakorp first thought it up in 2003.
13) Otakorp is credited by name in Hideo Kojima's popular Metal Gear Solid series. Since Otakon came before character Hal "Otacon" Emmerich, Kojima hat-tips the convention in the credits. In return, Otakon lists Emmerich as its "scientific advisor."
14) The earliest in summer that Otakon has ever taken place was in 1999, from July 2-4. Otakon takes place during a different weekend every year because of the Baltimore Convention Center's shifting availability.
15) Before the convention opens each year, Otakon holds a thursday "matsuri," or Japanese culture inspired festival. The first one was in 2005.
16) In 2006, Visit Baltimore awarded Otakon with its "Customer of the Year" award for promoting Baltimore tourism. Otakon is infamous among local hotels and restaurants for the influx of customers it attracts each summer.
17) The Four Fathers say that Otakon's name and mission was inspired by the 1991 Otaku No Video, which spoofed otaku culture. "It's the closest thing we have to the Otakon Bible," they said in an Otakon 20 panel.
18) For Otakon's 15th anniversary in 2008, major anime studio Madhouse commemorated the occasion with an Otakon-themed animation starring the convention's mascot characters, Hiroko-chan and Hiroshi-kun.
19) Otakon's 2013 attendance was 34,892, over 4,000 more than its 2012 attendance. If Otakon were a country, it would have the 2nd highest percentage of population growth in the world.
20) Otakon has been held out of Baltimore five times total: twice in Pennsylvania, twice in Hunt Valley, and once in Crystal City. That will change in 2017, when the convention moves to Washington, DC.
Sources: Otakorp, Otakon's official conrunner panel, Otakon Museum.