A Year On, Yuri on Ice Going Strong with Exhibitions, Stage Events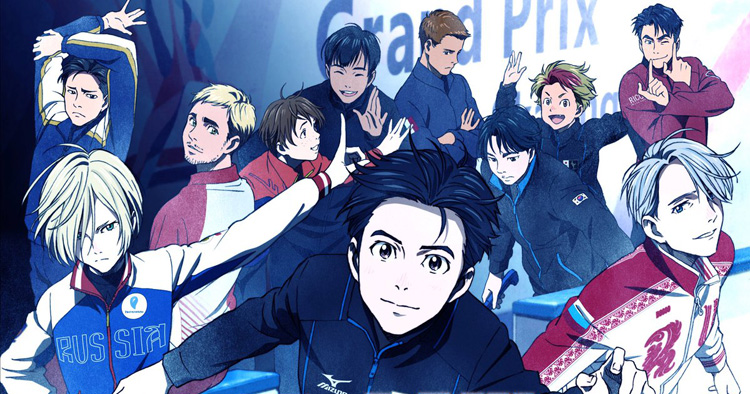 Believe it or not, it's been a year since Yuri on Ice went on air and became an instant fan hit. Though the final episode aired in December, the momentum surrounding the series has yet to see any inclination of faltering.
With events, collaborations, exhibitions, special promotions and limited-time cafes appearing one after another, 2017 has seen otaku in Japan and around the world embrace the world of YOI and that of ice skating at large. Here are just a few of the major YOI events that have occurred in the last few months and a few more that are yet to come.
Yuri!!! on Stage
Just five months after the anime completed airing, YOI held its first major anime event, Yuri!!! on Stage, at Maihama Amphitheater on April 29th, with two showings streamed in real-time at 136 movie theaters around the country.
Cast members who attended the event included Toshiyuki Toyonaga (Yuri Katsuki), Junichi Suwabe (Victor Nikiforov), Kōki Uchiyama (Yuri Plisetsky), Kenji Nojima (Seung Gil Lee) and many more, joined by the original character designer and artist behind YOI, Mitsuro Kubo.
The event featured discussion sessions, a concert featuring Wataru Hatano singing the ending theme song "You Only Live Once," and an original "reading drama" performed by the attending cast that left the audience howling with laughter. This was also the event at which the YOI film was first announced. Although no specific information or dates were released, it still had more than a few people screaming.
The Mitsuro Kubo Exhibition
For a brief stint in July, an exhibition was held at Akiba CO Gallery with a display of some of the original artworks of Mitsuro Kubo, which included titles such as 3.3.7 Byooshi!! (her debut work), Moteki, Again!!, and of course, Yuri!!! on Ice (Kubo-sensei clearly has a fondness for exclamation marks).
One of the privileges gained from going to this exhibition was being able to take photos of almost all the artworks on display, quite rare for this sort of exhibition in Japan. Getting an up-close at the rough drafts of all the characters, main and minor, really gave a new appreciation for the creative process behind the series. The exhibition was also held in Osaka from August 31 to September 11 and will be held in Kumamoto from October 21 to December 17.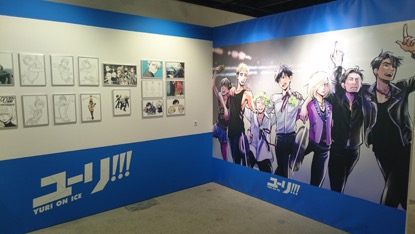 YURI on Ice Cafe
Out of all the collaborative YOI cafes that have come out so far, this one definitely takes the cake (in my opinion) in terms of atmosphere and quality. The Yuri on Ice Cafe was originally scheduled to open in Tokyo's OMOTESANDO BOX CAFE&SPACE from May 26 to July 2, but due to overwhelming popularity, it was extended for an extra 19 days to July 21. Entry was only available via reservation, which had to be made days in advance. The dishes served were based on those that appeared in the anime, and while the food in most anime-themed cafes tends to be less than satisfactory, this one quite outdid itself. The cafe was also opened in Nagoya and Osaka for a limited time.
Yuri!!! on Festival
Barely 3 months after the event in April, YOI began another full-scale summer collaborative production. The main course was the Summer Station Yuri!!! on Festival event held at Makuhari Messe in Tokyo on July 16, where a total of 13,000 fans gathered. In attendance were many major and minor cast members as well as creator Kubo.
It's quite hard to sum up this event in just a few words, but some of the highlights included giant red and white balls bouncing into the audience, shooting rolled-up YOI T-shirts at helium balloons, video comments from actual Russian star figure skater Evgenia Medvedeva, an overuse of the word "fundoshi," and Yuri being trol—possessed by a supposedly evil squid demon. I'll leave the rest up to your imagination.
Other parts of the summer production included a collaboration with Oedo Onsen, an indoor hot spring facility in Odaiba, Tokyo with various original merchandise and attractions, and the next one on our list, the exhibition Yuri!!! on Museum.
Yuri!!! on Museum
To call this exhibition a "museum" was a bit of an overstatement, as the entire space was roughly the size of an average high school classroom. Nevertheless, during the exhibition period, the lineup was constantly changing, and ticket vouchers were bought up by the thousands.
The main highlights of the museum included fresh new images of each contender featured in the final episode drawn specifically for the exhibition, a life-size statue of Victor Nikiforov that fangirls lined up in hordes to take photos with, plus life-size outfits of Victor and all the skaters featured in the last episode of the anime, including the costumes from that extra duet we saw during the ending credit roll of Yuri and Victor together. The attention to detail put into each costume was absolutely mind-blowing: if they'd put faces on each costumed manikin, you'd swear it was the actual character standing in front of you (unfortunately photos of the costumes were not allowed).
The Yuri!!! on Museum exhibition was also held in Nagoya as well, and will next move international to Taiwan.
Other events include the ongoing YOI anime 4DX screenings, the Yuri on Ice x Sanrio cafe, a special screening on November 5 of the first three episodes of the anime at the New Chitose Airport International Animation Festival 2017, the Yuri!!! on Concert scheduled for November 19, and, of course, the film (we're still waiting to hear when it'll be released…).
Regardless of what you think of the anime and the trend surrounding it, it's impossible to deny that Yuri on Ice has become one of the great sensations of anime fandom.