When Marnie Was There Review
When Marnie Was There is an important test for Studio Ghibli. It's the first film of the post-Miyazaki (and ostensibly post-Takahata) era, in which a new generation of directors, writers and producers will attempt to continue what Miyazaki, Takahata and Suzuki created.
I went in to Marnie with a certain amount of trepidation – I was not a huge fan of Yonebayashi's Arrietty, which had all the trappings of a Ghibli film but little of the soul. But When Marnie Was There is a solid film that shows great promise for the future of the studio: it feels the work of Studio Ghibli, but, crucially, not like a slavish copy of a Miyazaki film.
Marnie is based on a 1967 young adult novel by Joan G. Robinson about a young girl named Anna. Anna, transported to Sapporo in the Ghibli adaptation, is a shy and self-loathing junior high schooler, a talented artist but without friends and prone to panic attacks.
Anna's mother, fearing for her health, sends her to live with her aunt and uncle in a rural town where she can breathe fresh air and relax. Anna seems just as uncomfortable in her new environment as her old one until she meets Marnie, a girl Anna's age who appears only near an abandoned mansion and makes Anna promise not to tell anyone about her.
Is Marnie a ghost? A figment of Anna's imagination? Or something else entirely?
That's one of the great successes of When Marnie Was There: it's not immediately clear where the film is going. What initially feels like a story of pre-teen angst slowly becomes something more magical before taking a bit of a sinister edge. This isn't to say the tone is inconsistent: rather, Marnie keeps its cards close to its chest, only deploying them when the time is right. It's a slow but satisfying burn to the conclusion.
Ghibli has a record of making films with young female characters, and Marnie is no exception. There's a big difference, though, between superhero types like Nausicaa or Kiki and normal humans who struggle and evolve over the course of the film. Anna falls into the latter category, one of Ghibli's least upbeat female characters, at least at the start of the film.
Anna's situation and attitude reminds me a lot of Momo from 2012's A Letter To Momo: a young girl feeling depressed and confused by the changes in her life who's forced to move to a new environment. As it so happens, Momo's director, Hiroyuki Okiura, reportedly did some animation work on this film, and Masashi Ando served as character designer and animation director on both.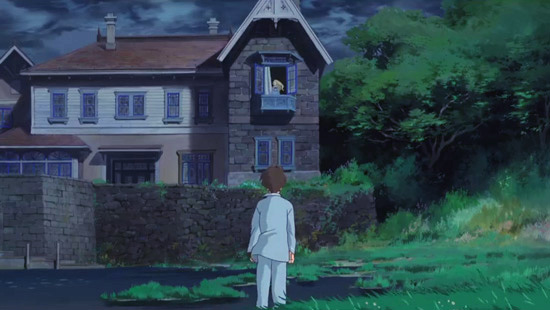 If there's thing to be disappointed about in this film, though, it may be the animation, which aside from a few choice shots, feels very workman-like. Then again, this isn't a Hayao Miyazaki fantasy piece: aside from a few supernatural elements, it's the story of a friendship between two young girls, and aside from a few iffy CG shots, the animation does the job.
If there was any worry about Ghibli repeating itself by adapting yet another female-oriented children's book, those fears are thankfully unfounded. When Marnie Was There turned out to be the kind of source material Ghibli hadn't really tackled before. While this might disappoint fans who'd like the studio to churn out Hayao Miyazaki copies ad infinitum, it bodes well for a thriving creative future for director Yonebayashi and Studio Ghibli.
This story originally ran in the 7/21/14 issue of Otaku USA e-News. If you're not on the mailing list, subscribe here!