Otaku USA e-News: 2014 In Review
It's 2015! A big Happy New Year and akemashite omedetougozaimasu to you guys. It's been another fun year of blogging all things otaku here at e-News, and we thought we'd take this January 1st to take a look back at some of the most memorable happenings of 2014.
Best Movie (live-action): Rurouni Kenshin: Kyoto Inferno
With a few rare exceptions, sequels are usually pale imitations of the original.
But Kyoto Inferno and The Legend Ends, this year's back-to-back sequels to 2013's Rurouni Kenshin, improved on the original in every way, from performances to pacing to action sequences (the fact they cover the Kyoto Arc, widely considered the best part of the original manga, probably didn't hurt either). Kyoto Inferno in particular was a rip-roaring ride that despite its 2+ hour runtime left me wanting more. Here's looking forward to director Keishi Otomo's adaptation of Himitsu.
Best Movie (anime): When Marnie Was There
It was a year when live-action adaptations reigned, but this year saw the release of quite a few anime films here in Japan, from mega-franchise monsters like the recent The Last: Naruto the Movie and the first Attack on Titan compilation film to more independent productions like Expelled from Paradise and Anime Mirai 2014.
But our pick for best anime film of the year is When Marnie Was There, the first (and possibly last?) Studio Ghibli film of the post-Miyazaki era. Directed by Arrietty's Hiromasa Yonebayashi, When Marnie Was There had the guts to be a very different film than something Hayao Miyazaki would make while still feeling like it was made by Ghibli. It's a shame Marnie didn't do well enough at the box office to get another film going, leaving Ghibli, for the moment, in limbo.
As a Ghibli side note, we highly recommend Kingdom of Dreams and Madness, another film that came out in Japan this year, and is now out in the States.
Best Event: Little Witch Academia Exhibition
We did our fair share of bopping around Tokyo this year, hitting Kill la Kill and Macross-themed cafes, Kyary Pamyu Pamyu concerts and Hideaki Anno talk shows.
But for our money, the single most "whoa man, anime is really cool!" event of the year was the Little Witch Academia exhibition this spring. Using life-size cutouts, 3D projectors and rows and rows of hand-drawn frames of animation, the event peeled back the curtains on the fascinating process of anime creation.
Most Frequently-Mentioned Topics
The three words we most frequently found ourselves typing here at Otaku USA HQ were probably "Attack" "on" and "Titan." Despite not actually being on-air at all this year (in Japan, at least), Attack on Titan was everywhere, with a compilation film, pop-up shops, a huge art exhibition, and announcements of a second anime season, two live-action films and even a ride at Universal Studios.
Word number four was probably "Naruto," as we covered the manga's final few weeks, the release of The Last, and revelations that there's plenty more Naruto to come.
Biggest Letdown: The live-action Lupin III movie.
No fun.
Most Anticipated for 2015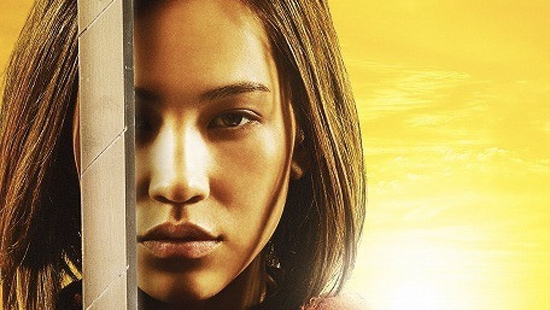 We're definitely looking forward – though not without some trepidation – to how those aforementioned Attack on Titan movies come out. They really could go either way, couldn't they?
Let's not forget all the other stuff lined up for 2015, either: new Dragon Ball Z and Ghost in the Shell films, not to mention Mamoru Hosoda's The Boy and the Beast, the first Lupin III series in forever, and even a Death Note musical.
What Otaku USA stories did you dig in 2014? What're you looking forward to in the world of anime, manga and Japanese pop culture in 2015? Let us know!