Undead Unluck Manga Gets 2023 TV Anime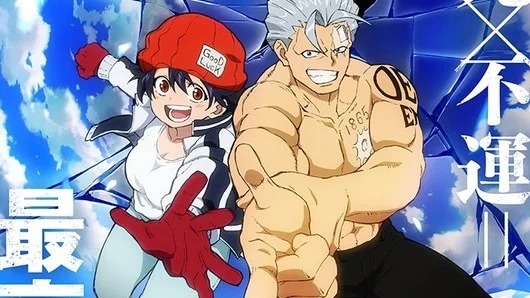 Fans of Yoshifumi Tozuka's manga Undead Unluck are in, uh, luck: the manga is getting a TV anime series next year.
That's the world from Weekly Shonen Jump, which also revealed a little YouTube teaser, a piece of key art and an illustration from Tozuka. Tozuka writes in the illustration that he had given up any hope of an anime adaptation after "placing that mosaic on Andy" but that he's thrilled that somehow the manga got an adaptation anyway. He also credits the fans with helping make it happen.
The Undead Unluck series will be animated at david production (JoJo's Bizarre Adventure, Spriggan), and produced by "UNLIMITED PRODUCE by TMS."
Here's how Viz Media describes the manga:
All Fuuko wants is a passionate romance like the one in her favorite shojo manga. Unfortunately, her Unluck ability makes that impossible. But just as Fuuko hits rock bottom, Andy sweeps her off her feet—literally! Now she's become Andy's unwilling test subject as he works to find a way to trigger a stroke of Unluck big enough to kill him for good. However, when the pair discovers a secret organization is hunting them, it puts Andy's burial plans on hold.
Source: ANN