Tiger & Bunny Manga vol. 1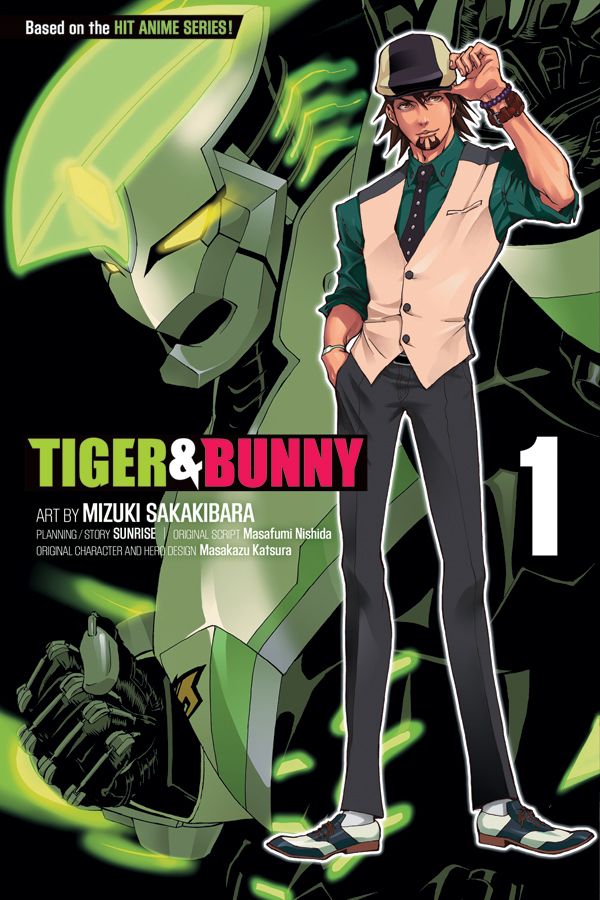 Superhero comics are often thought of as an American thing, but why can't manga get in on the superhero action?
Every superhero story needs its own mythology, and Tiger & Bunny has an explanation for how superheroes exist. Forty-five years ago some sort of mutation happened, resulting in people being born with an assortment of supernatural powers. Not all people have these powers, and the ones who do are called NEXT.
Because people are always looking for a new way to earn an extra buck, a TV show was made to show (some might say exploit) these superheroes in action. Depending on how well they do they earn points, and then a King of Heroes is eventually crowned.
Kotetsu T. Kaburagi is a superhero known as Wild Tiger, and his special power allows him to make his physical abilities one hundred times stronger, though this only works for five minutes at a stretch. Kotetsu has also been around for a while, and is seen by some as being washed up. He hustles to make a difference during the filming of the show, but just manages to make himself look more and more out of it. Finally, a new superhero shows up out of nowhere and saves Kotetsu's life when he's in over his head.  The new superhero is revealed to be Barnaby Brooks Jr., and he's good-looking, younger, and has the exact same powers as Kotetsu. Yes, their powers are the same, but Barnaby being good-looking and younger is all that matters.
The two don't exactly see eye-to-eye, but their company thinks they'll make an interesting match and force them to become the first duo of the hero world. To get sponsors, you know.
Tiger & Bunny has a fun premise with its satirical look at how even the best of things can be exploited for money and ratings. It also presents some really likable characters who jump off the pages. I especially enjoyed the banter between Kotetsu and Barnaby. Reading it, you know this duo of opposites is going to have to end up liking each other, but it's going to be entertaining to see how they get to that point. If you enjoy the manga and want more, VIZ is also releasing the anime version on home video.
Publisher: VIZ Media
Story: Sunrise
Original Script: Masafumi Nishida
Art: Mizuki Sakakibara