That Katsuhiro Otomo Live-action Film? It Just Might Be Domu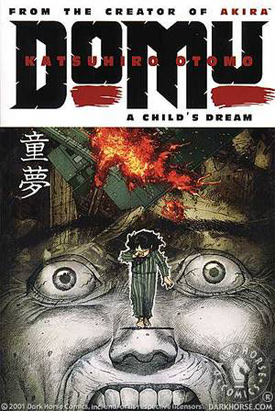 Late last year Katsuhiro Otomo, the legendary manga artist and director behind Akira, Memories and Short Peace announced he was working on a live-action film project, but did not offer any further details on the project.
It's now come to our attention that project may well be an adaptation of Domu, Otomo's classic manga about a boy with supernatural powers.
A secret seven-minute pilot version of Domu, directed by Otomo, was shown in late 2013 to a group of cinemagoers attending an all-night Otomo screening.
Several members of the audience tweeted about the experience of seeing the pilot film, with one audience member praising the "perfect depiction" of the manga's setting and mood.
Domu, released in America by Dark Horse as Domu: A Child's Dream, was originally published between 1980 and 81 and was the winner of several awards, including the Nihon SF Taisho Award (Japan's equivalent of the Nebula). With its depiction of urban ruin and extrasensory powers, Domu was in many ways a precursor to Otomo's Akira.
Anime News Network reported way back in 1999 that Disney and Guillermo Del Toro (Pacific Rim) were negotiating for the live-action rights for Domu. Del Toro revealed in 2013 the negotiations failed because the "American lawyers [did not show] proper respect to the Japanese creators and individuals."
Sources: naver.jp, Anime Anime, ANN, Fandom Post
---
Related Stories:

– Akira Creator Announces New Film
– Hollywood Akira remake adds screenwriter
– Katsuhiro Otomo's Short Peace [Review]
– Tokyo Gallery Hosts Akira Creator Exhibition
– Anime Anthologies: An Amazing Carnival of Memorable Geniuses