Sword Art Online Glasses Frames Released
How Deep Is Your Love… for Sword Art Online? Enough to wake up every morning and put Sword Art Online on your face? In that case, we have the product for you.
Released February 26, the Sword Art Online PC Frame by maker Heart Up comes in five different models, all based on a character from the series. They'll run you 4,980 yen, which comes out to about 42 bucks thanks to today's weak yen. What a steal.
This isn't Heart Up's first tie-up with anime, by the way, no sir. They're also currently running a campaign in which one can receive Aldnoah Zero goods like clear files and coasters by spending a certain amount of money when buying glasses or contact lenses.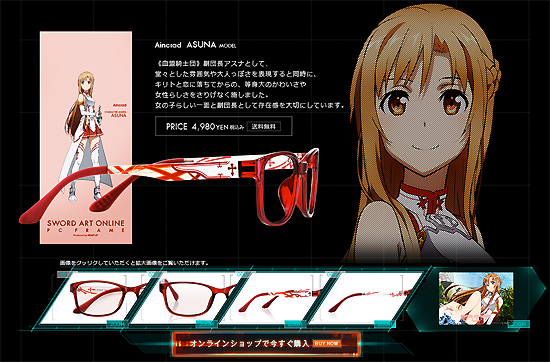 Source: Anime Anime
---
Related Stories

– Sword Art Online: Lost Song Game Gets New Ad
– Become the Blue Bomber With These Megaman Sneakers
– Tell Everyone to "Kill Me, Baby!" With This Otaku Military Parka
– Blacksmith Makes Kill la Kill Scissor Blade
– Celebrate the Evangelion Manga With These Sneakers