Sorcerous Stabber Orphen Details Upcoming Sanctuary Arc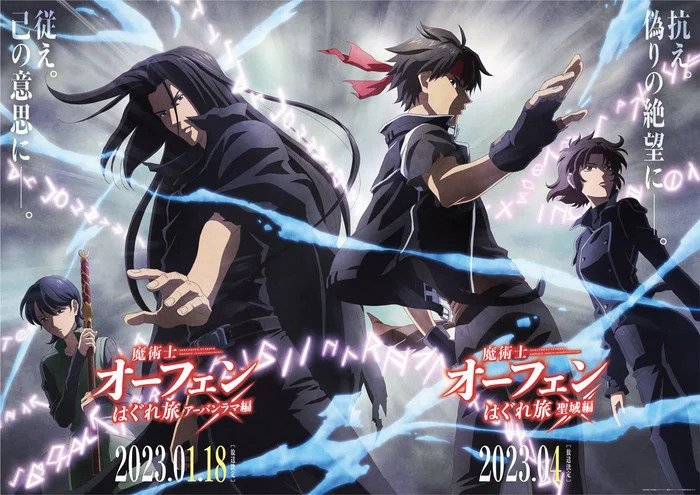 The third season for Sorcerous Stabber Orphen (or Majutsushi Orphen Haguretabi) will be called Chaos in Urbanrama (or Urban Rama-hen in Japanese) and will debut on January 18. We just got word that the Sanctuary Arc part of the story will begin in April. We also got a little information on what we can expect in this arc and received the above image.
Looking to new cast members, Yōko Hikasa will play Azalie, Akira Ishida will play Armagest, Hiroki Yasumoto will play Jack, Satoshi Hino will play Pluto, and Tomoko Kaneda will play the Silver Moon Princess.
Here are other actors new to season three: Daisuke Ono plays Ed, Shiki Aoki plays Lottecia, Junya Enoki plays Ryan, Takuya Eguchi plays Halpert, Taiten Kusunoki plays Damian, and Aina Aiba plays Winona.
The anime will be streamed in America by Crunchyroll.
The opening theme song is called "Hysteric Caravan," and you can credit Orphen voice actor Showtaro Morikubo for composing the music, writing the lyrics and singing the song. Meanwhile, the ending theme song is called "Fantastic Partner" and performed by Mai Fuchigami, who is also playing Dortin in the anime.
The first season of the new Sorcerous Stabber Orphen anime commenced in 2020, and is meant to mark the twenty-fifth anniversary of the light novel series, which premiered in 1994. The light novels are receiving a digital publication through J-Novel Club, which gave this description for the plot at the start:
"Orphen is a Sorcerer drop-out from the prestigious Tower of Fangs. His journey to save Azalie, a girl he looked up to like a sister, has brought him to the bustling city of Totokanta. Here they are reunited for the first time in five years. But what is the truth behind her monstrous transformation, and just what secrets lurk behind the Sword of Baldanders…?"
Source: ANN
____
Danica Davidson is the author of the bestselling Manga Art for Beginners with artist Melanie Westin, plus its sequel, Manga Art for Everyone, and the first-of-its-kind manga chalk book Chalk Art Manga, both illustrated by professional Japanese mangaka Rena Saiya. Check out her other comics and books at www.danicadavidson.com.