[Review] Ocean Waves
In 1993, Studio Ghibli teamed up with Nippon Television in a project designed to give younger animators a platform with which to express themselves artistically. The result was Ocean Waves (known in Japan as Umi ga Kikoeru, or "I Can Hear the Sea"), an animated television film with direction by Tomomi Mochizuki that is based on the novel by Saeko Himura.
A very low-key and unassuming film, Ocean Waves tells the story of Rikako Muto, a transfer student who moves from Tokyo to Kochi after her parents go through a messy divorce. Beautiful, athletic, and academically accomplished, Muto immediately catches the eyes of both the main character Taku Morisaki, a well-meaning and hard-working but unexceptional student, and his best friend, Yutaka Matsuno, an overachiever. As Muto, Morisaki, and Matsuno begin their final semesters in high school and prepare for their college entrance exams, a tenuous love triangle develops between them.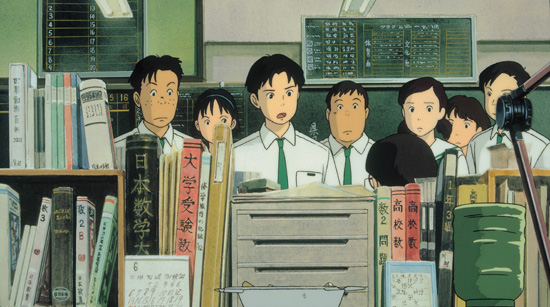 Viewers who are used to the visionary flights of fancy pioneered by Ghibli co-founders Hayao Miyazaki and Isao Takahata might not know what to make of Ocean Waves. Unlike Spirited Away or The Tale of Princess Kaguya, Ocean Waves is a supremely understated film in terms of its visuals, its plot, and its score. Ocean Waves also leans heavily on subtext and the intricacies of how Japanese people communicate socially to tell its story, and some of the subtler character moments may end up being lost in translation.
For example, Morisaki and Matsuno both speak in Tosa dialect, which sounds a bit rustic to the ears of Muto, who considers herself a sophisticated urbanite and reflects this attitude in her Tokyo dialect. Even between Morisaki and Matsuno, who share a common syntax and vocabulary, there are subtle distinctions that inform their characters: Morisaki's speech is more casual and direct, while Matsuno's speech is more formal and proper. Dialogue is only half of the equation, though, because the importance of many scenes hinges specifically on what is not said aloud.
If Ocean Waves can be said to have a single defining characteristic, it's the film's strong sense of cinematic naturalism. This naturalism features prominently not only in the performances of the voice actors, but also in the structure of the plot. For a film that is about an unlikely high school romance, Ocean Waves does not romanticize the lives of its teenage protagonists. Every important character is portrayed as a realistically flawed bundle of adolescent nerves.
For example, Rikako Muto, the exotic transfer student, is horribly self-absorbed, manipulative to a fault, and emotionally compromised by the trauma of the break-up of her family. Taku Morisaki is loyal to his friends, but he often sticks his foot in his mouth and says the exact wrong thing to defuse a situation when emotions run high. The dramatic incidents in Ocean Waves are similarly ordinary: bruised egos, broken friendships, mean-spirited rumors, and social ostracism make up the external sources of conflict. A few half-hearted slaps and a sucker-punch thrown in anger are as high as the stakes escalate. With age and wisdom, the characters are ultimately able to sort out their differences like adults.
As both an experiment to train up a younger generation of animators and as a movie, Ocean Waves yielded mixed results. The film came in overdue and overbudget during its initial television release and received only middling marks from critics. Now nearly a quarter century later, Ocean Waves is finally seeing an official English language release from GKIDS.
I maintain that Ocean Waves is worth watching at least once, especially for serious film buffs who want to experience something radically different from the rest of the Ghibli canon. For more casual Ghibli fans, the film will likely only hold value as a historical curiosity, as here Mochizuki's story may be too subtle and Mochizuki's visuals may be too subdued for viewers raised on decades of boundary-pushing animation from the likes of Miyazaki and Takahata.
studio/company: GKIDS
available: Now
rating: PG-13