[Review] Ninja Slayer: From Animation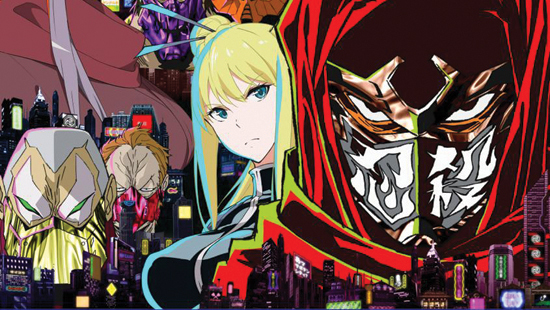 Ah, finally: an anime series made for us! By that, I mean the writers of Otaku USA specifically, which is probably why, of all the anime series of 2015, none may be more divisive than Ninja Slayer: From Animation. You will either love this or despise it, and you will know where you stand on this very quickly. Most anime fans in both Japan and America have not taken kindly to it, but perhaps this is because the ninja's cuts are deep indeed.
As the PR tells it, Ninja Slayer (yes, it's really "Ninj@ Slayer" but bear with it) originated as light novels written by two Americans, "Bradley Bond" and "Philip Ninj@ Morzez," longtime aficionados of Japanese culture who've unveiled the true history of Japan and the ninja arts that have been suppressed until now. You can read these English-language novels online for free as well as interviews with them. Ninja Slayer: From Animation is their "OEL light novels" translated into Japanese and animated by studio Trigger (Kill la Kill). FUNimation simulcast the series both in Japanese and dubbed into English, plus Vertical Comics is releasing the manga adaptation. Such is the American otaku dream come true!
The details were left scarce, but ads suggested the next great action series: "Kenji Fujikido was once a salaryman in the cybernetic futurescape of Neo Saitama before he and his family were struck down by ninja. Now, after being possessed with the soul of a ninja, he fights the shadow warriors and their clone yakuza underlings alike as … NINJA SLAYER!" Top musical acts such as Boom Boom Satellites contributed to the soundtrack, and character designs by Hiroyuki Imaishi all made fans preemptively proclaim it would "save anime" like all genre revivals apparently do. Over one million people tuned in for the first episode on NicoNico alone, to say nothing of the FUNimation website…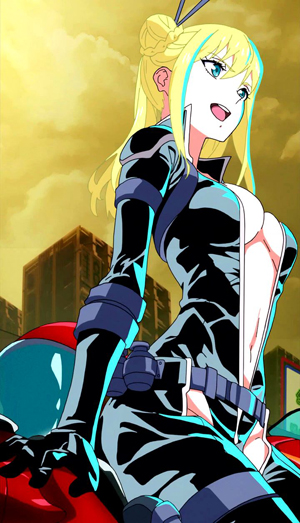 …only to discover that Ninja Slayer is actually a comedy done in the style of Inferno Cop or a Williams Street Adult Swim series, with animation to match. The power of the ninja comes from misdirection, you see, but few actually saw those interviews or read the original source material to realize it'd all be a joke.
The most surefire way to make a joke unfunny is to explain it, but … look: there are no original American creators. Those "novels" are transcriptions of posts from Twitter. Ninja Slayer is Trigger making fun of American fans who fetishize "Orientalism": the kind who cosplay in Japanese class "because they're TOTALLY going to move to Japan and become voice actors" who then drop out in a few weeks due to poor grades. Ninja Slayer is a riff on stuff about Japan written by people who've never actually been there or researched ninja in the historical sense, but HAVE bought throwing stars and a "katana" from the flea market/con dealer's room.
Of COURSE nothing about Japan is right! Of course one need only have a ninja soul to be a ninja rather than TRAIN. For those outside the US who can see it on Viewster, of course the translation leaves as much as possible untranslated with extensive on-screen notes to ensure "accuracy," except they're ultra-meta jokes on "fansubbing" like "NOTE: PLAN means KEIKAKU." That's precisely what the fictionalized creators of this would do!
The FUNimation localization is, sadly, completely accurate, but a large chunk of all spoken dialogue is "YEEART!" per the "novels," which is infinitely funnier than "HIIYAHH!"
Each episode's roughly 15 minutes, and the ending credits and theme song differ every time and are indeed by a cool musical act.
Thanks to strategic moments of fluid "Imaishi-style" action, there are some who hope the initial web-only broadcast is mere placeholder; that an upcoming TV broadcast will "fix" it. But I hope they change nothing—[is slain by ninja for revealing their secrets and must recite a death haiku] SAYONARA! [explodes in a live-action fireball]