[Review] Ghost in the Shell 2: Innocence
With all the hubbub surrounding the live-action Hollywood Ghost in the Shell—which will have been out for a bit and thoroughly critiqued by the masses by the time you read this—it's easy to forget about Mamoru Oshii's anime film sequel to the original, Ghost in the Shell 2: Innocence. Even if you forget the movie itself, you no doubt remember its endless verbal philosophizing, and all of that and more is back in glorious high-def thanks to Funimation's Blu-ray release. So how does Innocence hold up a whopping 13 years later?
First, let's start at the beginning. This time around we're treated to a decidedly Batou-centric outing, as everyone's favorite cybernetically enhanced member of Section 9 must unravel a case of some seriously haywire robots. There's no grand mystery behind the fact that Batou is center stage and partnered up with Togusa, a good ol' fashioned family man who just wants to stay alive each day so he can get home to his wife and kids. Oshii himself addressed the situation succinctly: "As to why Batou, it's simply because Motoko is no longer there." Innocence takes Batou to the deep underground and right through an army of yakuza as he seeks out the reason these doll-like robots decided to lose their cool and kill their owners.
Oshii wanted to make a movie about dolls to express the kind of problems humans were having (and still have) at the moment. Of course, you know he wouldn't be happy with just this singular theme, so the full theme—as explained in the included making-of documentary—is "dolls and dog." It's fitting, then, that the most expressive character in the film is Batou's basset hound. Similarly, the dolls and dog in question are the only ones who can truly claim "innocence," even if the Batou portrayed three years after the events of the first Ghost in the Shell film is a much more laid back dude.
If some of this is starting to sound like a half-baked college paper, that's okay! Most of Innocence sounds that way thanks to the non-stop barrage of open-air philosophizing throughout. It's not like we simply see Batou walking around waxing poetic; almost every character in the movie has someone to quote, and they can source pretty much any additional quote uttered in response. I'd like to think roughly 90% of their cyber-brains have been used to store nothing but the hits; the Now That's What I Call Philosophy collection of the GitS universe.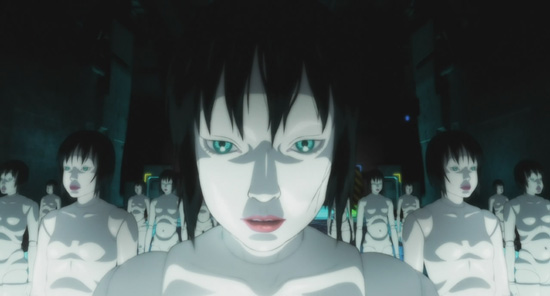 Innocence was created as "a drama for older audiences," which Oshii admitted might be a little strange for anime. I think the following Oshii quote sums up its effectiveness today, though: "One may question making an adult drama in anime form, but I made it with a hope that it may eventually be useful for younger audiences someday." I didn't really appreciate Ghost in the Shell 2: Innocence when it was initially released, but I certainly do now. From what I recall, there were many GitS fans that felt the same, but I might be mixing up my own mental history here. I don't think this sequel is more "important" than Oshii's first, more widely celebrated Ghost in the Shell adaptation, but I do think it's the better film.
As for Oshii, let's check in on his thought process following the release of this 2004 production: "There are a few beautiful and decent things in this world, but I can't help but think that the majority is no good." Bronze that line and place it on a wall because it might be the most distinctly Oshii quote of all time.
studio/company: FUNimation
available: Now (Blu-ray/DVD)
rating: PG-13