[Review] Fairy Tail Zero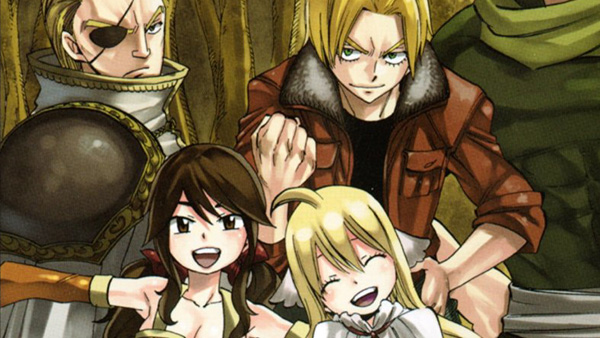 ©Hiro Mashima/Kodansha, Ltd. All rights reserved.
This Fairy Tail spinoff does as it promises by revealing the birth of the Fairy Tail guild (and more), but does this manga hold its own to someone who's never read the original fantasy manga it's based on? Yes, thankfully, and for a few reasons.
Fairy Tail Zero, a revenge tale minus the malice, is set in the time of warring guilds and focuses on Mavis Vermillion. This six year-old girl, living a Cinderella childhood of forced servitude, suffers everything with a smile in hopes of one day seeing a fairy. (They won't visit you if you cry.) Seven years after a bittersweet liberation by the wizard guild Blue Skull, 13-year-old Mavis and her friend Zera find themselves the sole occupants of Sirius Island … until some treasure hunters break the isolation. Mavis and Zera end up going along with the intruders to recover a rare treasure and, fatefully, end up learning some magic along the way.
Fun plot points and gags that foil expectations help make Fairy Tail Zero an enjoyable read. A wonderful bit of class commentary in the first chapter may falsely raise hopes as far as theme, but even though the whole series isn't so interesting, it's not bad (only a few portions of dialogue and plot are too reminiscent of an RPG).
The theme of saving people, and their dedication to their saviors, is shown through Mavis's relationships with three characters, and the twists thereupon are an unexpected joy. Likewise, Mavis's magic power is used in inventive ways that advance the plot and help flesh out her character.
While the main character designs largely rely on cute females and dashing/bishi males, there are a lot of odd and ugly visages strewn throughout. Other art to be admired includes building textures, flames, momentum, and scale in scenes of devastation, and that huge dragon skeleton.
There are many in-jokes to the main series, but these can be glossed over without hurting casual readers. More unforgivable are unintentionally comical moments brought about by sappy dialogue and minor but distracting plot holes. (A long-form interview with Hiro Mashima following the last chapter reveals plot points left on the cutting room floor.)
publisher: Kodansha Comics
story and art: Hiro Mashima
rating: 13+