[Review] Beauty and the Beast Girl
This yuri retelling of Beauty and the Beast is a charming concept poorly executed. A nameless monster lives in the woods. Feared and hated by humanity, the monster girl thinks she'll be alone forever, until one day a blind girl named Lily meets her. Lily gives the monster a name, Heath. Having finally met a human who doesn't run in terror, Heath gladly spends time telling stories to Lily and soon realizes she can't bear to spend another moment alone. Then Lily drops a bombshell: Heath may be responsible for Lily's blindness. How can Heath stay with the woman she loves if she's responsible for Lily's disability?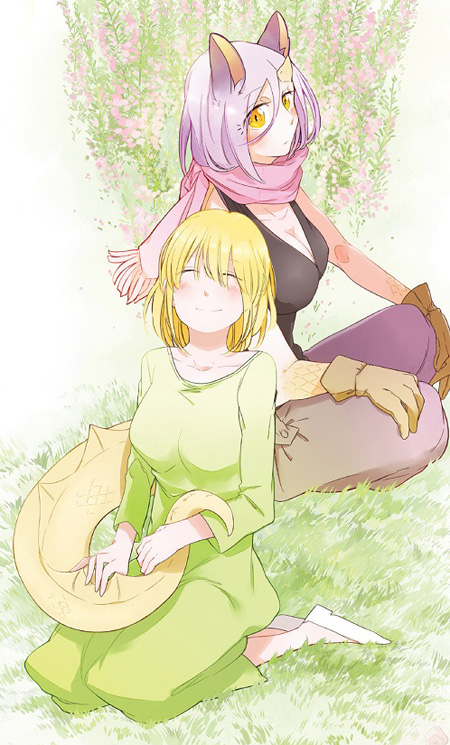 About half the book is spent on Heath worrying endlessly over Lily, pondering her feelings for Lily, then worrying about losing Lily. But then the confession of love goes swimmingly and they promptly move in together. The pacing feels completely off. It moves by turns with the speed of a glacier and an avalanche. The character's problems are built up for page after page, then resolve themselves with little to no conflict.
The artist, Neji, explains that the manga began as an online comic before being collected into a book. This may explain the meandering plot, but doesn't excuse it. The first volume ends at an awkward place; it doesn't so much end as stop mid-scene. Presumably the story will be picked up in the next volume, if there is one, but if it ends up being a stand-alone volume it'll be deeply unsatisfying.
The art is nice, if simple. Heath is both monstrous and cute, with an asymmetrical combination of animal parts including one horn, a tail, a fin, and scales. Lily is cute but generic. The clothing, aside from the costumes designed to accommodate Heath's monster parts, is bland. The few additional characters are unremarkable and unmemorable. The backgrounds are serviceable and the light, airy inks are nicely done. The lack total lack of tension could be excused if the art were stunning, but it's not. So, while the book is cute, it's a mediocre entry in a rich field of yuri manga.
publisher: Seven Seas
story and art: Neji
rating: T
This story appears in the August 2019 issue of Otaku USA Magazine. Click here to get a print copy.