INTERVIEW: Spreading Yuri Love with the Producer and Writer of Lilyka's Games
Lilyka, Digital Manga Publishing's yuri imprint, has begun offering computer games in addition to manga. So far they have The Curse of Kudan, OshiRabu: Waifus Over Husbandos, and OshiRabu: Waifus Over Husbandos ~Love or die~, all available on their site in multiple languages, including English, Japanese, Chinese and sometimes Korean. The games come originally from Hublots in Japan, and producer Koga and writer Hatsumi Shimizu answered Otaku USA's questions about their work, with an additional comment from illustrator DSmile.
Could you let us know about Hublots?
Producer Koga: My name is Koga and I am the producer who runs the yuri game brand [SukeraSparo] [SukeraSomero].
In recent years, manga or anime works with the theme of "yuri" – which means friendship and affection between women – have been really exciting. Among them, we have been developing works in the niche genre of computer adventure games.
In 2017, our brand's debut work, Junyuri (pure yuri) adventure The Expression Amrilato (original picture: Chisato Naruse / scenario: J-MENT), became an exceptional hit. The limited edition sold out early.
Amrilato became a popular topic by various web media and magazines (Weekly Famitsu), and received Gold Prize in the categories of the Moe Game Award 2017 and Concept Design Award.
In addition, the Esperanto language in this game is adopted as the language of another world, and the language is supervised with the cooperation of the general incorporated foundation Japanese Esperanto Institute.
The sequel of The Expression Amrilato, Distant Memoraĵo was released in March 2019, and we have been actively developing events such as fan meetings.
And in April 2019, the second yuri folklore ADV, The Curse of Kudan, was released.
This title welcomed the energetic, up-and-coming illustrator Hanekoto for the artwork, the writer of the visual novel video game FLOWERS series Shimizu Hatsumi for the game scenario, and all other talented staff members.
In June 2020, the serialization manga [adaptation] started at Comic Yuri Hime. (The issue with the final episode was released on March 18, 2021.)
OshiRabu Waifus Over Husbandos, the sister yuri game brand [Sukera Somero] with the concept of "fill the world with YURI!" was established in 2020.
However, I think that there are still people who might not know about yuri games, so I hope this article will help as many people as possible to get to know about it.
The Curse of Kudan is a yuri and horror game. With what kind of process was it made? Also, what part of this work do you especially want players to enjoy?
Scenario writer Hatsumi Shimizu: Before The Curse of Kudan, I had a yuri game called FLOWERS, so I started planning to make a work that combines my favorite things, which are yuri + horror. The horror of this game also has the aspect of solving the mystery.
In this process, you can get along with the heroine and deepen the relationship with her, so it also serves as another important factor called "yuri."
The Curse of Kudan is designed for fans of horror and yuri, as well as deduction-like mystery novels and stories. So you might think it's dark and heavy, although I hope you will continue to play. The horror part is solid horror, but it also has a bright taste that usually includes jokes, so please take a look at The Curse of Kudan!
The new Oshi Rabu series has a very different tone from The Curse of Kudan. How was the production of these games?
Producer Koga: Originally, the reason for working on yuri game works was to help commercialize A Kiss for the Petals, which is the monumental work of the yuri genre. OshiRabu was produced and aimed as a bright and fun romantic comedy that is easy to play even for yuri beginners.
What do you want the players to enjoy for OshiRabu and OshiRabu Love or Die?
Producer Koga: First of all, I would like you to enjoy the beautiful character art by the internationally-acclaimed illustrator DSmile.
And OshiRabu not only has a yuri taste for the 2020s, it also represented really well a view of love, a sense of need, and the atmosphere of the times.
What do you think about the game being localized in Europe and the United States?
Producer Koga: OshiRabu aimed to be released simultaneously in multiple languages from the beginning of production. Kudan was localized thanks to the smash hit of OshiRabu.
The Curse of Kudan has sophistication and a mystery solving part, and it's been called a top quality yuri game. If it was all made by scenario writer Hatsumi Shimizu, how did she come up with those ideas? Can she tell us more about herself?
Scenario writer Hatsumi Shimizu: Thank you for calling The Curse of Kudan one of the top quality yuri games.
It's embarrassing to hear those compliments. I like to think about mysteries, because I was originally aiming to be a mystery writer and I still have a habit of being a novelist even after becoming a game scenario writer.
I get inspired from watching movies, novels, dramas, etc. to think about how to make the story interesting and how to solve the mystery. Especially when I'm in the bathtub, I am often struck by inspiration.
[For my] new works: I'm posting information on Twitter @simizuhatumi
Also, if you want to know more, I will announce new information, my daily this or that, and I am also planning to introduce my novels that can only be read on pixivFANBOX. Thank you!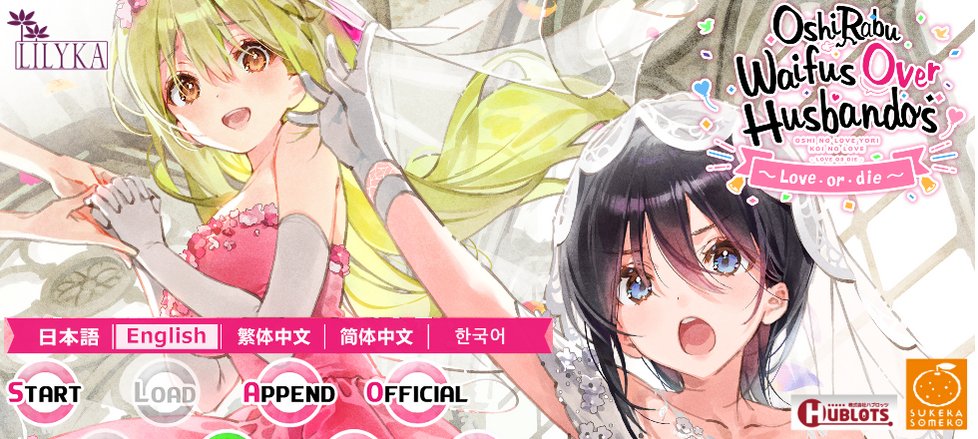 Your two main heroines of OshiRabu are designed to be really beautiful and cute. What did you keep in mind while creating them?
Illustrator DSmile: I think it's about finding out the charm of that character.
If you draw while thinking "I want everyone to know this about the girl! How is it!? Isn't she cute!?," then you will be able to draw cute girls.
The Curse of Kudan and OshiRabu are using all 4 or 5 languages in each title and are sold all over the world. However, OshiRabu is an R18 game and not for kids. Did the developers or local customers take a different approach?
Producer Koga: We approached everyone from the same perspective of the yuri lover, rather than thinking about countries or regions.
We used weibo, bilibili, and crowdfunding for China, but we regret that the appeal of the Western countries was weak.
Would you like to give a message to Western fans?
Producer Koga: We will continue to fill the world with yuri. It's very nice to meet you everyone!
____
Danica Davidson is the author of the bestselling Manga Art for Beginners with artist Melanie Westin, and its sequel, Manga Art for Intermediates, with professional Japanese mangaka Rena Saiya. Check out her other comics and books at www.danicadavidson.com.