Pink Ranger Amy Jo Johnson Claps Back at Rumors on Why She's Not in Power Rangers Special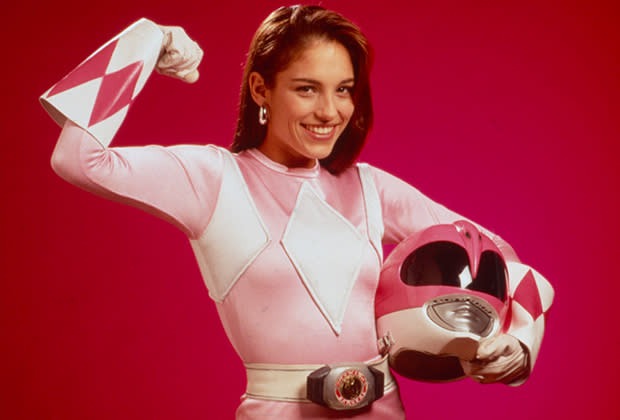 The Netflix special Mighty Morphin Power Rangers: Once & Always will be here on April 19, and it has Walter Emanuel Jones, the original Black Ranger; David Yost, the original Blue Ranger; Catherine Sutherland, the second Pink Ranger; Steve Cardenas, the second Red Ranger; Karan Ashley, the second Yellow Ranger; and Johnny Yong Bosch, the second Black Ranger. A number of people wonder why Amy Jo Johnson, the original Pink Ranger, isn't part of the lineup, and this has led to speculation. The main assumption people were putting out there was that it was related to money.
That's not the case, Johnson says. "Please stop saying I didn't do reunion because of money," she wrote. "Simply not true. Maybe I just didn't want to wear spandex in my 50s." She put a laughing, crying emoji here. "or couldn't go to NZ for a month. Or none of ur beeswax." She put a bee emoji here. "JDF & I both chose not to for our own reasons. They filmed before he passed. #PowerRangers"
JDF is a reference to Jason David Frank, the original Green and White Ranger, who passed away last year.
Johnson still made it clear she's cheering for her costars, adding, "Excited to see my pals @David_Yost & @Walterejones rock it though!! #PowerRangers"
She also retweeted David Yost's tweet of the latest Mighty Morphin Power Rangers: Once & Always trailer. Whatever Johnson's reason for not wanting to take part, we wish her the best.
According to the special's description, the Power Rangers will come "face to face with a familiar threat from the past. In the midst of a global crisis, they are called on once again to be the heroes the world needs. Inspired by the legendary mantra from the franchise 'Once a Ranger, Always a Ranger,' Once & Always reminds everyone when you become a Ranger, you are always a part of the Ranger family and always welcome."
Source: Amy Jo Johnson
____
Danica Davidson is the author of the bestselling Manga Art for Beginners with artist Melanie Westin, plus its sequel, Manga Art for Everyone, and the first-of-its-kind manga chalk book Chalk Art Manga, both illustrated by professional Japanese mangaka Rena Saiya. Check out her other comics and books at www.danicadavidson.com.