Pink Ranger Amy Jo Johnson on Why She's Not in Power Rangers Special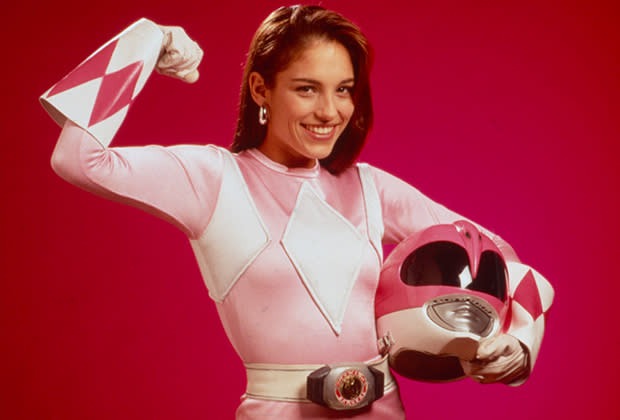 The Netflix special Mighty Morphin Power Rangers: Once & Always is coming in April, and will include Walter Emanuel Jones and David Yost, the original Black Ranger and Blue Ranger, respectively. This got many people wondering if other Rangers from the original cast would be taking part. Unfortunately, original Yellow Ranger Thuy Trang and original Green Ranger Jason David Frank have both passed. But what about the original Pink and Red Rangers?
Amy Jo Johnson, the original Pink Ranger, has squashed any musings that she might be part of the special. She tweeted, "For the record I never said no… I just didn't say yes to what was offered. But other fun stuff is in-store! Looking forward to watching my friends kick ass!" She included a kissy face emoji and the hashtag "#PowerRangers30." She was not more specific than that.
That leaves only the Red Ranger, Austin St. John. St. John has not mentioned anything about the special on his social media, and there is speculation he might not have been invited to the special because of his legal woes. Last year, St. John, along with 17 others, were arrested for allegedly trying to defraud the Small Business Administration's Paycheck Protection Program. The Small Business Administration's Paycheck Protection Program was supposed to help small businesses through COVID restrictions, but the federal indictment accused St. John and the others of using fraud to get more than $3.5 million for their own gain.
The upcoming special will have the Power Rangers come "face to face with a familiar threat from the past. In the midst of a global crisis, they are called on once again to be the heroes the world needs. Inspired by the legendary mantra from the franchise 'Once a Ranger, Always a Ranger,' Once & Always reminds everyone when you become a Ranger, you are always a part of the Ranger family and always welcome."
____
Danica Davidson is the author of the bestselling Manga Art for Beginners with artist Melanie Westin, plus its sequel, Manga Art for Everyone, and the first-of-its-kind manga chalk book Chalk Art Manga, both illustrated by professional Japanese mangaka Rena Saiya. Check out her other comics and books at www.danicadavidson.com.