We Tried the Official Ghost in the Shell Beer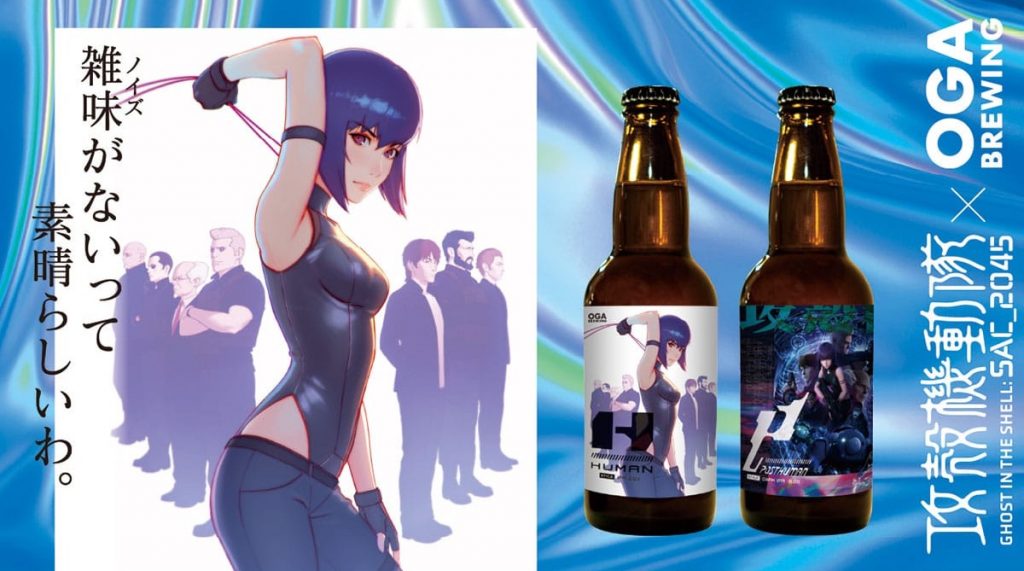 We here at OUSA Japan Headquarters are big fans of 1) Ghost in the Shell and 2) a good craft beer, so when we heard a Japanese brewery was bringing out an official Ghost in the Shell beer, we knew we had to give it a try.
The brewery in question is called OGA Brewing, and they're located in Mitaka, Tokyo, not far from Production I.G, the studio behind Ghost in the Shell (no coincidence, to be sure).
As fellow Japanese pop culture site Grape points out, beer and Ghost in the Shell are a natural fit: there are multiple scenes of the cyborg characters sipping cold brews throughout the films and series.
For the collaboration, which was timed for the release of SAC_2045, OGA Brewing created two varieties, called "H-Human" and "P-Posthuman." They even tied the flavors into the themes of the series: the H-Human beer is supposed to represent the unclouded mind of an all-human, non-cyborg body. P-Posthuman, on the other hand, was brewed to represent the chaotic, noise-filled brain of someone like Major Kusanagi, who's constantly connected to the 'net.
Booting up our personal favorite, the original 1995 film (sorry, SAC_2045…) we started with H-Human, a 5% IPA. There's a lot of IPA fatigue out there, but this beer didn't have any of that weighty, over-hopped flavor that's given IPAs a bad name. It went down so smooth, in fact, that we were onto beer number two before we could say "Puppet Master."
Next, we cracked open P-Posthuman and were immediately hit with a deep, pungent aroma — that, apparently, of roasted barley. The 6.0% Dark IPA packed a seriously posthuman punch, with an almost whiskey-like aftertaste. This is the kind of beer Batou would drink in the dark with only his basset hound for company. We loved it.
The pack we ordered from OGA contained one of each Ghost in the Shell beer, plus one of the brewery's standard pale ales. The most expensive pack offered by the brewery also contained Ghost in the Shell beer glasses, coasters, stickers and a Tachikoma bottle opener.
Even our modest set went for 2,400 yen plus shipping, meaning about eight bucks a beer. Not something we'll be going for every weekend, but definitely worth the fun of drinking of an official beer based on one of our favorite anime series. And that P-Posthuman beer was so flavorful, we swear we can still taste it days later. Or maybe that's just a whisper from our Ghost.
Photos: Kevin Zaleski